Horacio Aguilar knew five words of English when he left Jerez, Mexico, for a new life in Kansas.
"I could say 'hi', 'hello' and 'I don't know,'" said Aguilar, a sixth-grader at Hillcrest School.
His vocabulary has expanded significantly during two years in Hillcrest's program for elementary students learning English as a second language.
Concentration of the Lawrence school district's English as a Second Language program at Hillcrest has made the one-story brick building at 1045 Hilltop Drive the cradle of international education in Lawrence.
English comes naturally for only half the school's students -- 193 of 386 enrolled.
Hillcrest's immigrant students are from 42 countries. Last names run from Alsobaihi to Zho, Barua to Yu, and Contreras to Xu. They speak Farsi, Japanese, Urdu, Spanish, Russian, German, Chinese, Zime, Vietnamese, Kiswahili, Korean, Swahili, Arabic and more.
They're delivered by bus to Hillcrest from all over Lawrence.
Aguilar finds the international flavor a treat.
"It's cool when you have many different friends from many different countries," he said.
Booming demand
Principal Tammy Becker, who took over at Hillcrest about the time Aguilar arrived in Lawrence, said she continued to draw inspiration from interaction with families from around the world. Some are in Lawrence as little as one year, perhaps while a parent studies at Kansas University. Others make the move permanent.
"I wouldn't trade it for anything," Becker said. "For many of them, they work extremely hard to be successful here."
For all the academic, cultural and financial benefits of locating the program at Hillcrest, overall enrollment growth at the school has the district considering dividing the program between two schools.
In 1990, there were 70 students from about 17 countries in the program. Enrollment has nearly tripled and the range of countries more than doubled.
But the staff involved in the program at Hillcrest has only increased the equivalent of 1.5 full-time positions in that time, to the equivalent of 4.5 full-time positions.
Lawrence school board member Leni Salkind said she would support hiring one more English as a second language teacher at Hillcrest.
"That is one I'd be willing to bump up. There really is a need," Salkind said.
But even if more staff could be hired in these budget-tightening times, there's no space left for more classrooms at Hillcrest.
"There is a need to start looking at a second building," Becker said.
Earlier failure
Coyla Ezell, a fifth-grade teacher at Hillcrest, said realigning the offerings would have to be carefully planned.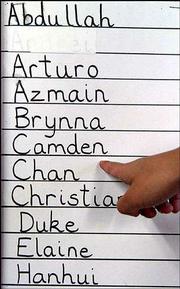 It could be a disaster if done too quickly without proper
training for all teaching staff at the new school, she said. Students in the program spend as much time in regular classrooms as in specialized language courses.
An effort about 10 years ago to divert some of the students to Kennedy School faltered because teacher training was inadequate, said Kathi Firns-Hubert, who teaches English as a second language at Hillcrest.
Some teachers at Kennedy, she said, were given a two-hour orientation.
"That was it," Firns-Hubert said, "They had no other training."
Ten teachers at Hillcrest are taking after-school classes toward certification to teach the program.
"If the district were to split the program, teachers at another school need to do the training first," Firns-Hubert said.
Mary Loveland, Lawrence school board member, said she would be willing to consider designating a second elementary school to handle students in the program.
Key challenges, according to experts, to teaching English as a second language:¢ Communication. Some students must serve as translators for adults who cannot read or write in English.¢ Curriculum. Instructional materials -- everything from language arts to math -- must be reshaped into a visual format for students learning English.¢ Health care. International students frequently arrive without standard immunization records and some parents have alternative ideas of medical care.
"I'm very concerned about the saturation level of that program at one school," she said.
Loveland said she would prefer the second school be close to Hillcrest to help maintain family networks that have been nurtured among the students.
Ron Lominski, a kindergarten teacher at Hillcrest, said most people didn't realize the range of academic ability among the program's students. Despite the gap, he said there was consensus among parents about the necessity of finding success for their children in school.
"They know education is the key to their child's future," Lominski said.
Copyright 2018 The Lawrence Journal-World. All rights reserved. This material may not be published, broadcast, rewritten or redistributed. We strive to uphold our values for every story published.