Rawlins, Wyo. — Bill and Carol Ann Marsh sign their newsletter "Dad and Mom," and for many of the inmates who get it each month, they might as well be real parents.
When the Marshes started the circular, the mailing list included just 36 people. Their message of hope spread by word of mouth, and now they are pen pals with 1,100 inmates in 40 states.
"These guys have done terrible things; there's no question about that," Bill Marsh said. "But we firmly believe in hate the sin, love the sinner."
Most of the inmates have lost touch with their real families, many of whom prefer to forget they have kin behind bars. Prison life has sapped them of self-esteem and faith in the future, the Marshes say.
Through the newsletter -- just a few pages of Scripture, the odd word of advice and some jokes -- the inmates get a monthly dose of hope.
"We want to let them know that we consider them as humans, as people, as God's children," Bill Marsh said.
It all started five years ago, when Bill Marsh was disabled by a stroke. His son-in-law, an inmate at the local state penitentiary, said his fellow prisoners could use some cheer, and he suggested a newsletter.
For the Marshes -- who rely on Social Security disability payments and live in a doublewide trailer below train tracks -- the thought of helping others lifted their spirits, too.
"I couldn't work anymore. I couldn't do anything. So our son-in-law said he had some friends out there who might like a letter from somebody. So I started writing to them. And it just grew from there," Bill Marsh said.
He knows what it's like on the inside; he spent a year in San Quentin more than 30 years ago. Now partially blind, he and his wife -- a victim of polio -- have made helping inmates their mission in life.
He said their role was to salve, not to judge.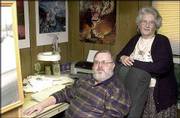 "We don't get into any of the aspects of why they are there, or how long, or the justice of it all."
The first half of their four-page newsletter is nondenominational Scripture. The letterhead quotes Hebrews 13:3: "Remember those in prison as if you were their fellow prisoners, and those who are mistreated as if you yourself were suffering."
The last two pages are filled with jokes -- clean ones, of course.
Carol Ann Marsh writes a brief prayer on each newsletter and signs it by hand. Sometimes they add a few paragraphs of personal advice or talk about anything else that might be on an inmate's mind.
Inmates often write back. They thank the Marshes for caring, and some of the envelopes they get are decorated with elaborate watercolors.
One inmate is older than Carol Ann but nonetheless enjoys calling them "Mom and Dad."
"He hasn't had any parents since he was 17; his parents were killed," she said. "He's tickled as a frog in mud to having a mom and dad. And he sent us a picture."
Copyright 2018 The Associated Press. All rights reserved. This material may not be published, broadcast, rewritten or redistributed. We strive to uphold our values for every story published.