Salina — American Indians have been kept in chains for more than a century and continue to be oppressed today, according to a new art and photo exhibition by Salina native Janine Martinez.
"Native America: Incarcerated" combines black-and-white photographs of American Indian prisoners of war taken in the 1800s with original paintings by Leonard Peltier, a Dakota-Chippewa-Cree who is serving two consecutive life sentences at the U.S. Penitentiary in Leavenworth for the murders of two FBI agents in 1975.
In both cases, Martinez thought there was a miscarriage of justice.
"In both time periods, Native Americans wanted treaties to be kept, and they resisted government intrusion into their lives," said Martinez, who has a degree in criminal justice from Kansas Wesleyan University and is working on a master's degree in anthropology at Wichita State University. "I'm trying to draw parallels between the 1880 Indian wars and the 1960s-1970s Indian movement, both of which ended in tragic circumstances."
Martinez's exhibit opened April 5 at the Mid-America All-Indian Center in Wichita and runs through June 28.
The 27 historical photographs, compiled by Martinez from the Denver Public Library's western history collection and the Minnesota Historical Society, illustrate the incarceration of the Plains Indians and their forced relocation to reservations by the U.S. government.
The seven paintings contributed by Peltier reflect traditional and contemporary American Indians and their cultures. Peltier has received several humanitarian awards and was nominated for the Nobel Peace Prize in 1994. He has long been considered a political prisoner by his supporters, and all proceeds from his art go to the Leonard Peltier Defense Committee in Lawrence.
Reaction to the exhibit has been extremely positive, said Shelly Berger, museum director at the Mid-America All-Indian Center.
"While it's still a controversial subject, we have enough confidence to do it," she said. "It's an attempt to educate people about Native Americans -- it shows how the reservation has been used as incarceration points for them, and the moment they stepped out of line, they were thrown into jail. It's also a chance to exhibit the art of Leonard Peltier and evaluate him as an artist instead of just a prisoner."
Although not American Indian, Martinez became interested in the culture while taking an anthropology class at Wesleyan and volunteering with an American Indian culture group at Ellsworth Correctional Facility. She said her experiences helped fuel her outrage and sadness at the treatment of American Indians.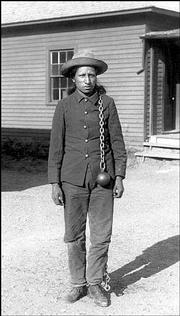 "I cried at a lot of things I read while researching this exhibit," she said. "There were so many promises the government made and didn't keep. Many Native Americans thought they would get land and be able to live the same lives as they did before, without the intrusion of the government, and that didn't happen. Their land was taken away and many people starved."
Martinez wanted Peltier to showcase his art at the exhibit. Peltier's involvement with the American Indian Movement, which focused on many of the same issues of land rights and government intrusion, led to a confrontation and shootout with the FBI at Pine Ridge Reservation in South Dakota.
Peltier agreed to participate in Martinez's project, referring her to his art agent, Geniece Kirtlink, who also serves as coordinator of his defense committee. Kirtlink said painting has been a way for Peltier, now in his 27th year of incarceration, to keep in touch with his people.
"It's a way to express himself beyond the prison walls, and it gives him a sense of peace and freedom," Kirtlink said. "He's a self-taught painter and has to make do with the limited materials they give him in prison. He also had a stroke in 1986 which left him 80 percent blind in one eye, so it's remarkable that he's emerged as such a master artist."
Kirtlink still clings to the hope Peltier will be released from custody someday.
"Every day we work towards a breakthrough," she said. "After all these years, Leonard is still optimistic. He still sees beauty in the world."
Copyright 2018 The Lawrence Journal-World. All rights reserved. This material may not be published, broadcast, rewritten or redistributed. We strive to uphold our values for every story published.