New York — Tim Hudson keeps getting wins for Oakland, just not for himself.
Hudson dominated the New York Yankees for eight innings, only to watch Jason Giambi hit a tying home run in the ninth off Keith Foulke. Eric Chavez then hit a two-run homer in the 10th that gave the Athletics a 5-3 victory Saturday.
"His last three starts he's been just magnificent, and he's got nothing to show for it," Oakland manager Ken Macha said. "It's a shame."
Hudson is 2-1 with a 3.26 ERA and has won just once in six starts since opening day, beating Seattle on April 16. But the A's are 6-1 in his starts.
"We won the games. That's all that matters," he said. "All I can do is what I do when I'm out there."
Foulke (1-0) relieved with a 3-1 lead and blew a save for the second time in nine tries. Nick Johnson opened the ninth with an opposite-field double to left that was fair by about six inches and Giambi crushed a 3-1 pitch off the front of the upper deck in right field.
It was just the sixth homer of the season for the former Oakland standout, who went 2-for-4 and raised his average to .200 with 18 RBIs.
"It's been a long time," Giambi said of his slump. "I've done a good job working counts, I just haven't been getting hits."
Demanding Yankees fans booed Giambi after he grounded to second base in the first and sixth innings.
"It's been really hard to hear him get booed the whole week," said Chavez, his friend and former teammate. "I'm just such a big fan of Jason's. I think he's one of the great guys."
Oakland quickly went back ahead against Juan Acevedo (0-2), who relieved to start the 10th. Mariano Rivera had pitched three days in row since coming off the DL.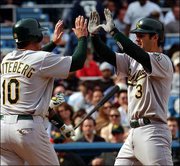 Scott Hatteberg doubled on a ball that just went under the glove of an onrushing Raul Mondesi in right. Chavez deposited the next pitch in the right-field bleachers for his seventh homer.
"Well, he hit the sweet spot for Chavez," Yankees manager Joe Torre said.
Acevedo also surrendered a double to Erubiel Durazo and threw a wild pitch high and wide of catcher Jorge Posada during an intentional walk to Terrence Long.
"My location on my fastball the last week or so, since we got back from the road trip, has been bad," Acevedo said.
Foulke then closed it out, surviving a throwing error by Chavez on Alfonso Soriano's two-out grounder to third.
New York, which had won three in a row, dropped to 23-7. The only hits off Hudson were singles by Hideki Matsui, Giambi and Posada.
"He had the game in control, and to control this lineup is something," Hatteberg said.
Yankees starter Jeff Weaver, who didn't retire the side in order once, was given a lead when Bernie Williams hit an RBI grounder in the fourth.
Rangers 6, Indians 5
Cleveland -- Alex Rodriguez came through in the clutch again for Texas, hitting a two-run double in the seventh inning in the Rangers' win against Cleveland, which has dropped nine of 10.
Rodriguez doubled with two outs off Jose Santiago (0-1) as the Rangers won for the first time when trailing after the sixth inning. Texas had been 0-10 when down after six, and the Rangers improved to 4-7 in one-run games.
Devil Rays 8, Tigers 6 (10)
Detroit -- Damion Easley came back to derail Detroit, lofting a pinch-hit triple in the 10th inning that sent Tampa Bay past the Tigers. Easley signed with Tampa Bay in early April, five days after becoming the most expensive player cut loose in baseball history. The Tigers owed him $14.3 million when he was released.
The Devil Rays blew leads of 5-1 and 6-3, but pulled the game out in the 10th. Detroit dropped its sixth in a row.
Blue Jays 7, Angels 1
Toronto -- Doug Davis won his first start with Toronto, and Vernon Wells hit a grand slam as the Blue Jays beat Anaheim. Wells drove in a career-high five runs and tied a career best for hits by going 4-for-4. The Blue Jays won their third straight game.
Davis, claimed off waivers from Texas last Wednesday, allowed eight hits in six innings for his first win since May 3, 2002, at Cleveland.
David Eckstein homered in the sixth for the only run off Davis (1-0). Davis struck out one and walked one.
Mariners 12, White Sox 2
Chicago -- Mike Cameron homered and drove in six runs to extend his tear against his former team and lead Seattle past Chicago. Cameron, who was 3-for-3 with a homer Friday night on the first anniversary of his four-homer game in Chicago, had six RBIs after two innings Saturday.
He hit a three-run homer in the first and a bases-loaded triple in the second off Josh Stewart (1-2) and finished 2-for-4 with two walks. For his career against the White Sox, who traded him to the Reds in 1998 for Paul Konerko, Cameron is batting .346 with nine homers and 26 RBIs.
Red Sox 9, Twins 1
Boston -- Pedro Martinez pitched a five-hitter and struck out 12 in his first complete game of the year as Boston beat Minnesota. It was the 39th complete game of Martinez's career and he finally received some support in a seven-run sixth inning capped by David Ortiz's three-run double against his former team.
In five of his other six starts, the Red Sox scored two runs or less while he was in the game. And he didn't have to worry about his bullpen blowing a lead as it did in two games in which he left while ahead.
Copyright 2018 The Associated Press. All rights reserved. This material may not be published, broadcast, rewritten or redistributed. We strive to uphold our values for every story published.