Topeka — A new round of charges were leveled Friday against Kansas University professor Dennis Dailey during an explosive debate in the Senate.
State Sen. Susan Wagle, R-Wichita, gave her colleagues a 13-page handout containing allegations that Dailey, who teaches a course on human sexuality, told students he was sexually aroused by children, saw nothing harmful in pedophilia and incest, and that complaints from students about Dailey to KU have gone unheeded by university officials for years.
"This stuff needs to stop. We are going to draw the line," Wagle said.
Dailey, who has remained mostly silent during Wagle's monthlong criticism of him, shot back that the allegations were lies.
"Such allegations are untrue, malicious, and extremely hurtful to me and my family, especially my two adult daughters," Dailey said.
One of Dailey's former students also was angered by the latest allegations. Tara Johnson, who took the class during the fall semester, said she never heard Dailey say anything that would lead to such allegations.
"That's absolutely untrue," she said. "I think there are some people who are very uncomfortable with their own sexuality and are searching for anything to use against him."
Johnson, a St. Louis senior, also said Dailey always made it clear that if someone was uncomfortable with his lectures they were free to leave.
Several senators were incensed that Wagle would publicize the mostly anonymous allegations from the Senate floor.
"The prosecution has rested. No defense, none needed," state Sen. Mark Buhler, R-Lawrence, said.
State Sen. John Vratil, R-Leawood, said Wagle was conducting a "character assassination" of Dailey that also demeaned the Senate and KU.
"We have no knowledge of both sides of this issue," Vratil said.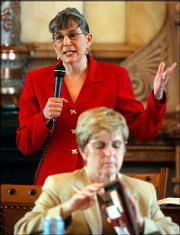 But other senators defended Wagle, saying they believed the allegations.
"How in the world can anyone defend some of the worst trash I've ever heard of?" state Sen. Karin Brownlee, R-Olathe, asked. She stated flatly that Dailey promoted pedophilia.
New Wagle amendment
The debate erupted when Wagle introduced a new amendment to the final budget bill that will require universities to provide the Kansas Board of Regents their policies on the use in certain courses of sexually explicit materials, including videos, discussion of pedophilia, and sexual harassment.
Wagle and Senate President Dave Kerr, R-Hutchinson, said the amendment was a compromise from her original amendment that was vetoed by Gov. Kathleen Sebelius.
Her original measure was aimed at cutting $3.1 million in state funds to KU's School of Social Welfare if it could be determined that Dailey used obscene materials in his course "Human Sexuality in Everyday Life."
That was adopted by the Legislature, but after Sebelius vetoed it, Wagle said she didn't have enough votes to override the veto.
But Wagle said lawmakers needed to do something to send a message to Dailey. She said that even as his teaching methods were under the spotlight he continued to make inappropriate remarks in class.
Needless proviso
Sen. David Adkins, R-Leawood, said there was no need to present the allegations because Wagle's complaints against Dailey had resulted in an investigation by KU.
And because of that investigation, Adkins questioned the need for the new budget amendment.
"The University of Kansas does not condone obscenity. The University of Kansas has a forceful policy on sexual harassment," Adkins said.
Sen. Nancey Harrington, R-Goddard, accused Adkins, a lawyer, of political grandstanding and asked if he and Vratil, also a lawyer, were on retainer with KU.
Both said they weren't. At that point, Kerr stood up and asked the Senate to tone down the debate.
Kerr said he had hoped the new amendment would settle the debate and end publicity on the issue that has reached across the nation. But he conceded he probably failed on that point.
The amendment was adopted on a nonrecorded voice vote and then rolled into the last budget bill, which was approved 26-14. Now House and Senate leaders will negotiate differences in the two chambers' budget bills.
Previous complaints
The packet of material provided by Wagle included a page from a 1994 college dissertation, several letters, including one from Lawrence private investigator Virgil Palmer who said he attended Dailey's class on March 31. The letters from former students or relatives of students had their names removed from copies handed out to senators.
Palmer said Dailey showed pornographic videos and used vulgar and obscene language.
Palmer, contacted by telephone, refused to say who hired him to investigate Dailey. Wagle, who has appeared on national television shows denouncing Dailey, also declined to say who had hired the investigator.
"At some points in class he would act like a completely professional person, and in the next moment he would say the most vulgar thing in the world," Palmer said of Dailey. "It was just kind of odd. I'd never seen anything like that."
One letter writer said she had complained to KU officials after having taken Dailey's course in 1994. She said Dailey taught that having sex with children was OK.
The letter writer stated that a KU official told her that Dailey had academic freedom to teach the class the way he wanted and that her complaint would be kept under wraps "as it might affect my grade."
Higher ed response
Janet Murguia, executive vice chancellor for university relations, said the university would review Wagle's new allegations, but added that she was disappointed that Wagle had not approached school officials first.
"It's just unfortunate that she hasn't come to us first. We have made it clear we want to see this information," Murguia said. "We want a thorough and fair investigation."
Jen Hein, a student who has defended Dailey, said Wagle was out of line.
"Those are disgusting and ugly things that she is doing. That is what I find obscene," Hein said.
The Kansas Board of Regents issued a statement that current policies were sufficient to address disputes about course content, "but the board is prepared to respond to the requirements outlined in the proviso added to the Senate omnibus bill."
The regents had asked Sebelius to veto Wagle's first budget amendment.
---
Staff writer Mike Belt contributed to this story.
Copyright 2018 The Lawrence Journal-World. All rights reserved. This material may not be published, broadcast, rewritten or redistributed. We strive to uphold our values for every story published.