Those little yellow envelopes on the windshield seemed insignificant to Teri Williams.
During two years working in downtown Lawrence at Urban Outfitters, 1013 Mass., she accumulated more than $650 in unpaid parking fines.
She didn't think the city cared enough to pursue them. Then one day last summer, she was arrested on a city warrant after a traffic stop, fingerprinted and booked into the Douglas County Jail.
"They care," said Williams, 24, who now works at Arizona Trading Co., 734 Mass. "They care a lot."
Such stories could become more common in the months ahead.
In July, the city installed new software that allows better tracking of parking tickets and habitual offenders, many of whom are downtown employees like Williams.
The software can match vehicles with registered owners more easily than the previous system. It also can quickly produce lists of the city's top parking violators -- all in an effort to collect on roughly $290,000 in outstanding parking fines.
"That's not good for me," said Erinn Barr, Williams' co-worker, who gets warning letters about her unpaid fines.
Budget blame
Hairstylist Jane Meeks-Juelsgaard, who at one point owed more than $1,800 in parking fines, said she'd been getting more warning letters in recent months. It's her opinion the city is trying to compensate for its budget deficit of more than $1 million.
City officials said there was not a cause-and-effect relationship.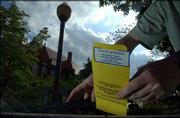 "Every penny has always been important, and we attempt to collect fines in our courts system in an appropriate, professional way," said Dave Corliss, assistant city manager. "When you have tighter fiscal times, you do want to look at all of your revenues and make sure you're getting what is due the city."
Corliss likened people's complaints about their parking fines to someone saying, "I'm mad because the chocolate sundae has calories."
"Our main goal is not to fine somebody," he said. "Our main goal is for the employees not to park in the short-term spots but to park in long-term spots, thereby freeing up short-term spots for the patrons."
Parking options
Meeks-Juelsgaard and her co-workers at Shear Perfection, 123 W. Eighth St., said the city's 10-hour meters were either too far away or were occupied when they needed to park.
As a result, they park in a two-hour free lot behind the salon or in short-term metered spots. If they park in the free lot, they try to go outside every two hours, circle the block and park again.
Corliss suggested downtown employees buy a $192 annual pass for a new garage in the 900 block of New Hampshire Street. Meeks-Juelsgaard bought a pass, but said she rarely used it.
"I work late at night, and I'm not going to walk by myself to the parking garage," she said.
Not everyone who owes fines will have an experience similar to Williams'. She recalls mingling with "some dudes that had jumpsuits on" and having to post the amount of her fines as bail.
"I laughed a lot," she said. "What's the point of getting upset about it? It's not like I killed someone or something. I parked downtown and got arrested."
Parking offenders have several opportunities to pay up before they become prisoners. In general, people who owe more than $10 in meter violations are likely to receive a letter saying a warrant could be issued for their arrest if they don't pay.
When those fines reach $100, they receive a criminal complaint and notice to appear before a judge, said Vicki Stanwix, municipal court administrator. If they don't show up in court, their name appears on a list of warrants sent to the Lawrence Police Department.
"We're not saying, 'Let's go after person X, Y, or Z,'" Stanwix said. "We're going after the people who owe the most."
Husband behind bars
Tami McCann, who works at La Prima Tazza, 638 Mass., got a letter in mid-March saying a warrant could be issued for her arrest if she didn't pay more than $300 in fines.
McCann, who thinks something in Lawrence should be named after her because of all the money she's paid, said she couldn't go two weeks without getting a ticket.
"When I have a lot of customers, I can't say, 'You guys need to wait for your coffee while I go pay my meter,'" she said.
When she got the warning letter, she paid the fines. But a few days later, police came to the home of her estranged husband, whose name was on her car's registration, and arrested him, she said.
McCann said city officials blamed the mix-up on the change to the new software system. Not all of her tickets had been entered into the new system when she went to pay her fine, she said.
Stanwix said there were a few glitches with the new system but that it was now working well.
Contrary to what some downtown employees say, the city doesn't delight in fining people or catching high-profile violators, officials said.
In some cases, the city agrees to reduce people's fines when they respond to the warning letters.
"I don't think they're bad people," Corliss said. "What we want for them, really, is to park where they're supposed to."
Efforts to contact people listed as the city's top 10 alleged violators were unsuccessful.
Here are the people listed in the city's database as owing the most in unpaid parking fines, along with the amounts they owe and their license-plate numbers.City officials emphasized that they haven't been convicted and that they are the cars' registered owners, not necessarily the drivers.1. William Gartner, $3,860, ONS064/PPS7182. Brenda Elpers, $2,030, OAS844/PNZ438/TAZ9303. William Hence, $1,815, TAW7684. Ailin Guerra, $1,790, POC130/POC126/OCP8615. Julious Edwards, $1,490, 785ABP*6. Jeremy Auman, $1,440, OHO8277. Adin Van Duyne, $1,385, REP0738. Jeremy Cain, $1,070, PPJ1669. William Owen, $1,040, PPE40810. Gracie Billigmeier, $960, ANTHR1*Of these 10, four have active warrants, two have pending warrants, three have upcoming trial dates, and one has an upcoming arraignment date, city officials said.Some have more than one license plate because of a switch to new Kansas license plates in 2001, and some drive two cars with multiple tickets on each.Efforts to contact each of the 10 for comment were unsuccessful.*Missouri plates
Copyright 2018 The Lawrence Journal-World. All rights reserved. This material may not be published, broadcast, rewritten or redistributed. We strive to uphold our values for every story published.