Hoping to set the record straight on what goes on in Kansas University professor Dennis Dailey's controversial class on human sexuality, Jen Hein appeared Thursday on Fox News Channel's "The O'Reilly Factor."
"I just wanted the truth to come out," she said, an hour before the 5 p.m. taping at KU's Adams Alumni Center.
But Hein didn't get to say much; neither did fellow student Rick Sullivan.
"Did you hear his questions?" Hein said afterward, referring to Bill O'Reilly, the show's commentator. "He asked about 'Pedophilia Day' -- what's up with that? There isn't a Pedophilia Day, there's a day when he talks about sexual abuse and misuse, and, yeah, he talks about pedophilia because it's a form of sexual misuse."
O'Reilly spent much of the five-minute segment pressing Hein and Sullivan to explain the educational benefits of watching videos of people -- including a physically handicapped couple -- engage in sexual intercourse.
O'Reilly rejected Sullivan and Hein's explanation that watching the videos helped break down the barriers of talking about sex.
"Well, the guys down at Times Square can make the same statement," O'Reilly said.
Asked to explain reports that Dailey had "said he could understand why some people are pedophiles," Sullivan explained that Dailey had, in fact, told the class that as a sex counselor he tries not to judge his clients' behavior "because he would not be able to help them if he did that."
O'Reilly: "And he says that he himself could understand why some adults would be sexually attracted to children?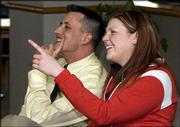 Sullivan: "Yes, and a lot of that he believes comes back to abuse in earlier years."
O'Reilly didn't buy it. "If this man is saying you can't make a judgment about adults having sex with children, he doesn't deserve to be on the University of Kansas campus," he said, concluding the segment.
Kelli Brandt, a Leawood junior majoring in women's studies, watched "The O'Reilly Factor" with about a dozen students gathered around a big-screen television in the Kansas Union. She bristled at the tone of voice O'Reilly used when he directed his questions to Hein.
"When he asked her about the videos, it was like 'Now, what would a woman find interesting about a sex video?'" Brandt said, injecting an incredulous tone. "It was the same old stereotype that says women are not sexual people, they're people other people have sex with."
She added, "I thought the whole thing was incredibly biased."
At a table next to Brandt sat KU student body vice president Catherine Bell. She, too, was disappointed in O'Reilly's conclusions.
"I'm glad they went on the show because I think it's important for anyone who's paying attention to this to understand the other perspective -- and that's the perspective of the students," said Bell, a junior from Coffeyville majoring in political science.
Sen. Susan Wagle, R-Wichita -- based on information from Jessica Zahn, a student in Dailey's class -- has accused Dailey of showing pornographic videos, using foul language and sexually harassing students.
"Most of everything Sen. Wagle has said is a complete and utter lie," said Paul Vancleave, a 38-year-old student taking Dailey's class this semester. "Same goes for Jessica Zahn."
Copyright 2018 The Lawrence Journal-World. All rights reserved. This material may not be published, broadcast, rewritten or redistributed. We strive to uphold our values for every story published.