Anaheim, Calif. — Even in California, Roy Williams wasn't worried about persistent rumors linking him to the coaching job at UCLA.
"I have zero problems," Kansas University's basketball coach said Wednesday at the Arrowhead Pond, where his Jayhawks will meet Duke tonight in a West Regional semifinal. "It's not a distraction for me. I haven't talked to UCLA. It's not a distraction for our guys. If it was Elle MacPherson and I talked to her, that would be a distraction."
The leggy Australian model was nowhere to be seen Wednesday, but the Jayhawks met plenty of West Coast media representatives eager to ask about Williams' interest in the Bruins' job. The Los Angeles Times named Williams as a possible candidate again Wednesday, though the coach has refuted the rumor multiple times.
Williams denied interest in UCLA during the regular season when speculation began to swirl around embattled coach Steve Lavin, who mentioned Williams among a list of coaches who could replace him. Last week during the first round of the NCAA Tournament at Oklahoma City, Williams denied a published report that said UCLA had contacted him after Lavin was fired.
The subject was bound to come up again, however, when the Jayhawks arrived in sunny California. While it might be hard for California reporters to believe Williams actually wants to stay in Lawrence, he hasn't had a hard time convincing others.
"My team believes me," Williams said. "They believe my focus is on Kansas, and they know that's where it is."
Just three years ago Williams turned down an offer to return to his alma mater as head coach of North Carolina.
"I was worried to death," said senior guard Kirk Hinrich, who had just completed his freshman year at KU when UNC was courting Williams in the summer of 2000. "It's hard to make an adjustment like that to a different coach. I didn't want to go through that."
Hinrich didn't have to. Williams, citing loyalty to his players, chose to stay at Kansas rather than return to his native state.
Williams is 415-100 in 15 seasons at KU entering tonight's matchup with the Blue Devils.
"I feel like Coach's heart is with us," sophomore point guard Aaron Miles said. "If he's not going to take his dream job at North Carolina, I don't think he's going to go to UCLA."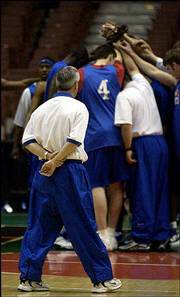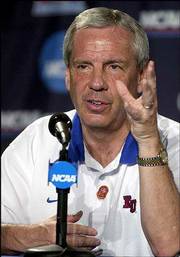 Copyright 2018 The Lawrence Journal-World. All rights reserved. This material may not be published, broadcast, rewritten or redistributed. We strive to uphold our values for every story published.