Minneapolis — The Metrodome brings back sweet memories for Kentucky.
The Wildcats passed through the dome in 1996 on their way to the national championship. They beat Utah 101-70 and earned a trip to the Final Four by defeating Tim Duncan and Wake Forest, 83-63. Kentucky is 30-6 in domes.
Yet the cavernous, 21-year-old building remains one of the least-popular venues in sports. The NFL's Minnesota Vikings, baseball's Minnesota Twins and the University of Minnesota football team are all looking for new stadiums.
To accommodate seating for the basketball court, which takes up only about half of the artificial turf surface, crews have installed bleachers across from the benches and closed off some of the stadium seats behind them.
Wisconsin guard Kirk Penney was asked if it's tough to get his bearings in the Metrodome.
"Yeah, it's a dome," he said. "It's just getting the feel for it. You've just got to go out there. There is a little difference, but once you get a feel for it, it's fine.
"If you're put here, you've just got to make do."
Marquette star Dwyane Wade said his team already had tried to get accustomed to the unusual setting.
"We try to get used to the rims and the atmosphere. We don't worry about what's in the background, though, only the orange rim and the ball."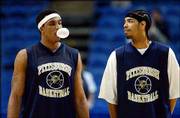 At least one Wisconsin player was pretty excited to play in the dome. Freshman forward Andreas Helmigk just wasn't sure which dome it is.
"To come from a small town in Austria and now I'm in the Sweet 16, now I'm playing in the Superdome, where the Vikings play."

Anaheim, Calif. -- Notre Dame's Mike Brey is keeping some impressive company at the West Regional.
His fellow coaches in Anaheim are Arizona's Lute Olson, a basketball Hall of Fame member, Duke's Mike Krzyzewski and Roy Williams of Kansas.
"Mike just knows people, he's just really a good guy," Krzyzewski said.
Brey spent eight years as a Duke assistant under Krzyzewski before getting his first head coaching job at Delaware. Brey came to Notre Dame three years ago.
"You use all three of them as models. Certainly, my eight years in Durham with Mike had a huge influence on me," Brey said Wednesday.
What did he learn?
"The first thing would be get a lot of good players," he said. "The daily competition and intensity that you need to run a program at this level, Mike was a great example of that. One of the things he made very clear when he hired me back in '87 was he didn't want anybody coming down there who didn't want to be a head coach."

Minneapolis -- A newspaper reported Wednesday that former Wisconsin coach Dick Bennett will become the next coach at Washington State.
The Wisconsin State Journal in Madison, quoting an unidentified source, said the school plans to introduce Bennett as coach Saturday.
According to the Spokane Spokesman Review, sources in Washington State's athletic department said Bennett, whose son Tony is an assistant coach with the Badgers, is a strong candidate for the job.
The elder Bennett left coaching in 2000 and still resides in Madison, Wis. Badgers guard and New Zealand native Kirk Penney was one of the players Dick Bennett lured to Wisconsin.
"He's a great coach and if he feels the urge again, that's wonderful. He's one of the best," Penney said. "I support him, absolutely. I love playing with him, if he feels he wants to get back into the game, that's great."

Extra points: Marquette freshman guard Jared Sichting is the son of Minnesota Timberwolves assistant Jerry Sichting. ... Marquette coach Tom Crean spent the 1994-95 season with Pittsburgh. "It's a special game because we're in the Sweet 16 and I have a ton of respect for Pittsburgh. ... I loved the time I spent with Ralph Willard there. I enjoyed my time there. I've always been a city of Pittsburgh and University of Pittsburgh fan." ... Pittsburgh coach Ben Howland told his team he has a plan similar to that of Marquette's most famous coach. "I've told them that we want to win the whole thing and I want to be the next Al McGuire and retire at age 45 and get right into television ... really have some fun and make the big money," Howland said.
Copyright 2018 The Associated Press. All rights reserved. This material may not be published, broadcast, rewritten or redistributed. We strive to uphold our values for every story published.