Anaheim, Calif. — Duke often embraces the three-point shot.
However ...
"I don't think Duke is married to the three-point shot," Kansas University basketball coach Roy Williams said of the Blue Devils (26-6), who are expected to unleash a barrage of threes in tonight's NCAA West Regional semifinal matchup against KU (27-7).
Tipoff is 8:57 p.m. at the Arrowhead Pond, with a live telecast on CBS (channels 5 and 13).
While not betrothed, the Devils and the trey are best friends, that's for sure.
Led by freshman J.J. Redick, who has hit 94 of 227 three-pointers for 41.4 percent, Duke has made 234 of 646 threes (36.2 percent). That's an average of 7.3 three-pointers made a game and an average of 20.2 attempts.
Kansas, in contrast, has made 162 of 469 threes for 34.5 percent.
"J.J. is maybe as good a shooter as there is in the country," Williams said of the 6-foot-4, 200-pounder from Roanoke, Va., who averages 15.3 points a game off 42.6 percent overall shooting. He likely will be guarded by KU senior Kirk Hinrich tonight.
"Even though he is a freshman, this time of year the inexperience factor is no longer there," Williams said.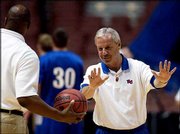 While Redick is the Devils' biggest outside threat, he's not the only one. Dahntay Jones, a 6-6 senior who will be guarded by 6-9 Nick Collison, has made 43 of 111 threes (.387). Daniel Ewing, a 6-3 sophomore who likely will be matched against fellow sophomore and Texan Keith Langford, has made 40 of 101 threes (.396).
"They do a great job of breaking you down dribbling, getting you to help and pitching out to guys who can shoot the three," Williams said. "They run stuff to get guys who can shoot threes open."
Duke often relies on the long-distant shot because of a non-productive inside game. Shelden Williams, a 6-9 freshman from Midwest City, Okla., averages 8.3 points and six rebounds. Casey Sanders, a 6-11 senior who lost his starting job earlier this month, averages 4.6 points and 5.2 boards. Shavlik Randolph, a 6-10 freshman, averages 7.4 points and 3.9 boards, but has been hobbled because of an ankle sprain.
"One of the things Mike does is a great job of recognizing his personnel, their strengths," Williams said of Duke coach Mike Krzyzewski. "You go back several years, they had Elton Brand. Getting Elton the ball was the first choice. Shelden has come along the past several games. He had 10 or 12 the first half against North Carolina (in 20-point outing March 9). His farthest basket was two inches."
It is not beyond the realm of possibility Duke will try to score both inside and outside tonight. The Devils have hoisted as many as 37 threes twice -- making 13 against Army and 12 against Florida State. But Duke last weekend went just 4-of-13 from three-point range in a 67-57 first-round West Regional victory over Colorado State and 10-of-15 in an 86-60 second-round win over Central Michigan.
"They will be a tough matchup. They have so many guys on the perimeter who can hit shots," Collison said. "We'll have to limit their open shots. You do that by cutting down penetration. It starts with those guys taking you off the dribble, then kicking it out."
Indeed, Duke point guard Chris Duhon, a 6-1 junior who averages 9.2 points and 6.5 assists per game, will try to penetrate, then flip out to Redick for the open three.
"In games we've struggled with the three, it's when we get beat off the dribble," Collison said. "Teams have quick guards, get in the lane. We're taught to help. By overhelping ... they kick out to the shooter. The focus is guarding your man.
"The biggest thing is just making shots," Collison added. "I think a lot of teams can get open three-point shots regardless of who you are playing. If they knock 'em down, it's tough to guard."
One advantage KU might have tonight is experience. Collison and Hinrich are two of the best seniors remaining in the tourney.
Hinrich and Collison were just freshmen when the Devils tripped the Jayhawks, 69-64, in a second-round East Regional game March 19, 2000, in Winston-Salem, N.C.
"We played 'em my freshman year. We came in as the underdog, and they were the No. 1 seed," Collison said. "We played well, but in the end they were too experienced. We made too many mistakes, and they beat us. We're happy we played well in that game, but it was one of our more disappointing losses because we didn't get it done at the end.
"We're experienced, but they have guys who have played a lot of basketball in Jones and Duhon and some others. They are very talented. I do not think that (experience) will be a factor. People can talk all they want about different things, people are going to say what they want to say about things like matchups and experience, but it always comes down to, you just have to play."
Tonight's winner advances to Saturday's West Regional championship game against either Arizona or Notre Dame.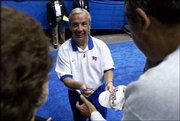 Copyright 2018 The Lawrence Journal-World. All rights reserved. This material may not be published, broadcast, rewritten or redistributed. We strive to uphold our values for every story published.