Houston — Shaquille O'Neal is satisfied that his self-proclaimed title is still intact.
O'Neal scored 39 points and took over the game in the closing minutes with three straight baskets, helping the Los Angeles Lakers overcome the emotionally charged Houston Rockets, 96-93, Wednesday night.
O'Neal outplayed Houston's Yao Ming in their second meeting, then denied it was a statement game. Yao scored just six points.
"I don't have to make statements," O'Neal said. "Everybody knows the type of player I am. I've been doing this for 10 years, and just because he had one good game against me doesn't mean he had the MDE (most dominant ever) title.
"I took that title from Hakeem when he left Houston a couple of years ago."
Despite the Yao-Shaq matchup, the pre-game talk was about Rockets coach Rudy Tomjanovich, who told the team earlier in the day he would take an indefinite leave of absence to fight bladder cancer.
"I think we did a good job defensively, we just did not do the job down the stretch," Rockets acting coach Larry Smith said. "We're still learning. I lot happened this week. I'm not making excuses but this was a very trying day for us."
Houston led 89-86 with 2:37 to play before a basket by Robert Horry set the Lakers' winning rally in motion.
O'Neal followed with a 7-foot hook, a turnaround jumper, both over Kelvin Cato, and then went right at Yao and dunked on his third try for a 94-91 lead with 19 seconds remaining.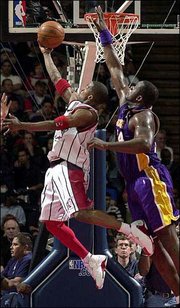 James Posey and Steve Francis each scored 19 points for Houston.
Warriors 107, Celtics 95
Boston -- Jason Richardson scored 31 points and Golden State broke open a close game. Paul Pierce, a former Kansas University player, had 25 points, and Eric Williams 15 for the Celtics, whose losing streak is their longest of the season.
76ers 91, Pacers 85
Indianapolis -- Allen Iverson had 22 points and 10 assists, and Philadelphia missed only four shots in the fourth quarter. Eric Snow added 18 points.
Raptors 89, Cavaliers 83
Toronto -- Morris Peterson scored 14 of his 21 points in the second half, helping Toronto end a three-game losing skid. Vince Carter added 18 points for the lottery-bound Raptors, losers of nine of their previous 10. Zydrunas Ilgauskas had 25 points and nine rebounds for the Cavaliers.
Nets 101, Knicks 95
East Rutherford, N.J. -- Kerry Kittles' go-ahead three-pointer with 5:43 to go ignited a 14-2 spurt that carried the Nets. Kenyon Martin had 24 points, Kittles 23 and Jason Kidd added 17 points, nine rebounds and eight assists for the Nets.
Latrell Sprewell had 24 points, and Allan Houston added 19 for the Knicks.
Pistons 102, Hawks 99, OT
Auburn Hills, Mich. -- Chauncey Billups' three-pointer with one-tenth of a second left in overtime gave Detroit a come-from-behind victory.
Richard Hamilton led the Pistons with 27 points, while Billups had 23, and rookie Mehmet Okur scored 16 -- all in the fourth quarter. Ben Wallace added 23 rebounds.
Suns 101, Grizzlies 99
Memphis, Tenn. -- Stephon Marbury scored 23 points, including an 18-footer and a free throw with 1.2 seconds left. Amare Stoudemire added 22 points for Phoenix, while Shawn Marion had 21 points and 18 rebounds. Penny Hardaway scored 18, and Marbury added eight assists.
Jazz 94, Trail Blazers 85
Salt Lake City -- Karl Malone scored 24 points and John Stockton had 10 assists on his 41st birthday, helping Utah extend its winning streak to five games. Rasheed Wallace scored 21, but was the only starter in double figures for Portland.
Bulls 82, Heat 74
Chicago -- Jalen Rose scored 19 points and Tyson Chandler had 16 rebounds, helping Chicago win its fourth straight home game. Caron Butler had 16 points and Eddie House added 15 for Miami, which shot only 30 percent from the field.
Nuggets 108, Bucks 103
Denver -- Shammond Williams hit a driving layup with 24 seconds left, Rodney White added two free throws and Denver held off Milwaukee. Juwan Howard had 25 points and 11 rebounds for Denver, which built a 20-point lead late in the third quarter but saw it reduced to two with 3:04 left. Gary Payton had 28 points for the Bucks.
Magic 97, Hornets 95
New Orleans -- Tracy McGrady scored 41 points and blocked Jamal Mashburn's jump shot with six seconds left. Mashburn led New Orleans with 40 points and P.J. Brown had 14 rebounds.
Wizards 80, SuperSonics 74
Seattle -- Michael Jordan had 26 points and 10 rebounds, hitting three straight baskets in a key stretch of the fourth quarter as Washington beat Seattle .
Jerry Stackhouse scored 20, including a putback that all sealed the win with 16 seconds remaining.
Ray Allen scored 17 to lead the Sonics, who had won four of their previous five games in a bid for the eighth spot in the Western Conference playoffs. Brent Barry scored 15 and Rashard Lewis had 14.
Mavericks 114, Clippers 107
Los Angeles -- Dirk Nowitzki scored eight of his 27 points in the final 1:16, and Nick Van Exel added 29 points for Dallas.
Steve Nash had 19 points and 12 assists for the Mavericks.
Eric Piatkowski led the Clippers with 22 points, and Corey Maggette had 21 points and 11 rebounds.
Copyright 2018 The Associated Press. All rights reserved. This material may not be published, broadcast, rewritten or redistributed. We strive to uphold our values for every story published.