Anaheim, Calif. — After 17 years of piloting Roy Williams, Larry Brown and other big-time players in Kansas University athletics across the country on recruiting trips, Dennis Sooby figures he's got some catching up to do on the road.
So Sooby and his wife, Delores, packed up their Ford Windstar for this year's NCAA Tournament -- driving from Lawrence to Oklahoma City for the first and second rounds, then directly to Anaheim, Calif., for this week's regionals.
A four-hour flight? No way. Try three days on the road, visiting pubs along the way.
"When I retired, I just decided to start driving a little," said Dennis Sooby, who spent 17 years as a KU pilot until retiring in 1992. "I sat in an airplane all my life. I wanted to do something different."
"And see the country," his wife said, "from a little different perspective."
As the Jayhawks prepare for tonight's regional semifinal against Duke -- tipoff is expected at 9 p.m., with the game shown live on Sunflower Broadband channels 5 and 13 -- hundreds of KU fans are making their way to Southern California, home of palm trees, Disneyland and 8,500 KU graduates.
"It's a family on the road," said Kirk Cerny, a KU Alumni Association vice president.
It's not exactly an easy trip. Last week in Oklahoma City, three dedicated KU students mulled whether to fire up their 1975 Toyota Chinook camperwagon for the 25-hour trek from Allen Fieldhouse to the Pond at Anaheim.
They soon shifted gears, picked up a couple of young women and rented a Windstar of their own for the 1,600-mile odyssey.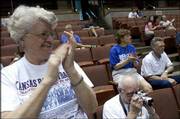 Scoring credit
"We figured we wouldn't be too comfortable in the Chinook, so we got the van," said Justin Nydegger, a leader of the road-trip pack, Wednesday night as the crew passed through Amarillo, Texas. "We credit-carded it. The key was finding a credit card."
Such tales brought smiles to the faces of KU players in their locker room at the Pond before Wednesday's practice.
"Personally, I wouldn't make that big of a drive, but with the people that do it, it says a lot about Kansas and the tradition," said Michael Lee, a KU reserve. "We have a lot of support -- a lot of support."
Added forward Keith Langford: "It shows the love."
Bill and Joan Bradford, of Wamego, have been showing such love regularly for more than a decade. Their only question this week was how they would arrive.
Having driven previous trips -- such as to St. Louis and Madison, Wis., last year -- the Bradfords took to the air this week. The retirees were among the 149 passengers on the team plane, a Boeing 757 that left Topeka's Forbes Field on Tuesday night.
While Nydegger and friends look to snack on plain white bread and beer, the Bradfords' meals were at least a few steps up on the food chain: steak, vegetables, salad, garlic mashed potatoes, raspberry cheesecake and chocolate-covered Hägen-Daaz ice cream bars.
"They're going to feed those boys good, so we get it too," Joan Bradford said. "It's better than a road trip. It's just the best."
Faithful following
Concerns about vehicle reliability never occurred to the Soobys. Their 1996 van already has 122,000 miles on it, many of them coming on NCAA trips to all points of the country: Knoxville, Tenn.; Detroit and New Orleans among them.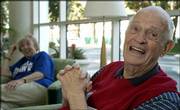 Other vacations have taken the van to Skagway, Alaska, and Orlando, Fla., but it is the annual hoops migration with other KU fans that allow the Soobys' spirits to soar.
"This is our annual jaunt," Delores Sooby said, between chats with KU assistant coach Steve Robinson and others traveling with the team. "Wherever they go, we'll go with them."
"I don't know if I could go through a year without following the Jayhawks in March. The year I don't follow them, they'll probably go all the way and win the national championship. And I'll miss it," she said.
It won't happen this year -- the missing-out part, anyway.
The retirees -- Dennis is 75; Delores is 73 -- also welcome the chance to turn their van around Sunday and start out for New Orleans, site of this year's Final Four.
They hope the Jayhawks will be with them.
Copyright 2018 The Lawrence Journal-World. All rights reserved. This material may not be published, broadcast, rewritten or redistributed. We strive to uphold our values for every story published.