Mark Martin says the only thing separating protege Matt Kenseth from Dale Earnhardt Jr. as a NASCAR Winston Cup superstar is the Big Noise Theory.
"You don't make noise in this sport based solely on your performance,'' said Martin, lead driver at Roush Racing and co-owner with Jack Roush of Kenseth's Cup team. "There is some other machine out there that makes a lot of noise that I don't know about. But it has a lot to do with marketing.''
Blessed with his famous father's name, his own obvious talent and an engaging personality, Earnhardt Jr.'s popularity has reached rock-star status.
"Every time I open something, I see Dale Earnhardt Jr.,'' Martin said. "I swear, I can't believe it. I'm not really being sarcastic; I'm really serious. Dale Earnhardt Jr. is dominating this thing in a lot of ways if you look at it.''
Junior's interviews in Rolling Stone and Playboy have exposed NASCAR to "crossover'' audiences. Earnhardt Jr., 28, is prominent in MTV videos as well as TV commercials for primary sponsor Budweiser beer and the upscale men's fragrance Drakkar Noir.
In contrast, there are no hip TV spots featuring Kenseth or promoting his primary sponsor, DeWalt Tools. An "extended interview'' with the fast-talking Kenseth might last 10 minutes. Married and a father, Kenseth eschews the celebrity-laced crowd that follows Earnhardt Jr. But during their parallel full-time Winston Cup careers (beginning in 2000), Kenseth has put up numbers remarkably similar to his longtime rival and friend.
"He's won two Busch (Grand National) series championships, and he's got a different last name than I have, so that's going to automatically give him a little more attention,'' said Kenseth, who will return to Texas Motor Speedway in Fort Worth, Texas, this week as reigning champion of the Samsung/RadioShack 500. "Our personalities definitely are different; I am very low-key compared to him. And, like I said, he's done more things than I have, so he probably deserves to get a little more attention.''
Martin said he first perceived the difference in noise, or visibility, generated by Kenseth and Earnhardt Jr. during their rookie seasons. Martin said he felt Earnhardt Jr.'s victories at TMS and Richmond International Raceway attracted more media attention than Kenseth's victory in the Coca-Cola 600, NASCAR's longest race.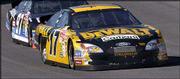 "That wasn't fair, when Matt and Dale Jr. were racing for rookie of the year,'' Martin said. Kenseth, who finished 14th and two spots ahead of Earnhardt Jr. in the final standings, won rookie of the year honors by 42 points.
Fast-forward to today, where Kenseth leads the Winston Cup points series for the third consecutive week. Crew chief Robbie Reiser has assembled a world championship pit crew, but Kenseth remained typically stoic about his chances to win the 2003 Winston Cup championship.
"It's such a long season, and we're only five races in,'' Kenseth said. "Being the points leader, you can't say it doesn't mean anything because you definitely have a good start. But it doesn't mean much this early in the year. You've got to have all your ducks in a row for an entire 38 weeks, or whatever.''
Roush Racing teammate Kurt Busch -- another preseason championship favorite -- said Kenseth's rise to the top has been "a complete joy.''
"He got in a wreck at Darlington (two weeks ago), and he still finished eighth,'' Busch said. "They won out in Las Vegas, and I never thought a Ford would win on that day. It's been a great thing to see.''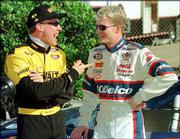 Copyright 2018 The Lawrence Journal-World. All rights reserved. This material may not be published, broadcast, rewritten or redistributed. We strive to uphold our values for every story published.