There are 65 teams in the NCAA Men's Division One basketball tournament bracket, and there's something that pertains to Kansas University basketball in every number between one and 65.
Items for numbers one through 33 ran in Tuesday's Journal-World.
Here are numbers 34 to 65, plus a bonus fact:
34: The number of years Phog Allen coached at Kansas before he won his first NCAA title, in 1952. Allen coached at KU for 39 years. Having reached age 70, he was forced to retire after the 1955-56 season because of a board of regents policy mandating departure at that age. Allen, upset he would not get to coach Wilt Chamberlain at the varsity level in 1956-57, labled the move "statutory senility." He was succeeded by Dick Harp, a former Kansas star who had been Allen's key assistant for eight years. This was also the 34th year of operation for storied Allen Fieldhouse. Also in 1934, KU won the Big Six title for the fourth straight season with a 16-1 season mark. Ray Ebling with a 12.8 average was the top scorer for the Jayhawks.
35: The 1997-98 Jayhawks posted a 35-4 record as Big 12 Conference champions, Big 12 Tournament champions, preseason NIT champions and national title contenders. But the Jayhawks were derailed by Rhode Island in a second-round game. The 1985-86 squad, a noted Final Four entry, also had a 35-4 record, and that win total remains the highest in KU history. Larry Brown's talented '85-86 team won the Big Eight title and NCAA Midwest Regional with a 4-0 record before being dumped by Duke in the national semifinals at Dallas. KU's key men that year were Danny Manning, Ron Kellogg, Calvin Thompson, Greg Dreiling and Cedric Hunter. After the '98 upset by Jim Harrick's Rhode Islanders, one of KU's greatest teams limped home with a 1-1 NCAA record, never getting close to the Final Four.
36: The 1936 season saw Big Six champion KU enter the Olympic playoffs against Utah State as a strong favorite. But Kansas lost two out of three games. While KU posted a sterling 21-2 overall record in '36, it had to stay home from the Games even though coach Phog Allen had been the key man in getting basketball included in the Olympics. The losses to Utah State snapped a 23-game KU victory streak, still tops for the school's program.
37: The only No. 37 jersey listed in the KU media guide--the number was worn by Eldon Nicholson from Pittsburg, a reserve on KU's 1953 NCAA finalist team.
38: Fred Pralle (1936-38) becomes KU's first consensus All-American and KU has an 18-2 record. But there was no NCAA tournament until '39. The 6-3 Pralle later starred for the Phillips Oilers and in the AAU ranks and his retired jersey hangs with 20 others in Allen Fieldhouse. Many have called him "the Michael Jordan of his day."
39: 1939--the year of basketball inventor James Naismith's death after a career as KU coach, teacher and spiritual adviser. He was 78. He is buried here in Memorial Park cemetery and his grave is often visited by both local and non-local people. Kansas coach Roy Williams is a frequent visitor to the site during moments of a quest for inspiration and tranquility. Naismith came to KU from Springfield, Mass., for an annual salary of $1,300.
40: Kansas ties for the Big Six Conference title and then wins a league playoff involving Missouri and Oklahoma. There were only eight teams involved in the NCAA Tournament in '40. Kansas beat Rice and Southern Cal to reach the finals against Indiana in Kansas City. Indiana then won over a lineup that included Dick Harp, Howard Engleman, Ralph Miller, John Kline and Bob Allen. The Jayhawks finished the season with a 19-6 record.
41: For his performances during the 1941 season, Howard Engleman becomes KU's second consensus All-American. Fred Pralle was the first in 1938. KU had a 12-6 record in 1941. Engleman had started on the 1940 NCAA Final Four team as a junior, saw extensive World War II Navy duty and later while a law student posted an 8-6 record as head coach in 1947 when Phog Allen had to take time off due to a head injury. This past season, Engleman's No. 5 jersey was retired and hung in the rafters of Allen Fieldhouse to join 20 others so honored.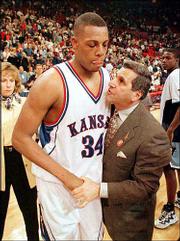 42: Terry Brown's point total against North Carolina State in a 105-94 victory as KU was en route to another Final Four appearance. Other Jayhawks with NCAA pedigrees who had 42-point games during their careers were Clyde Lovellette, Danny Manning and Walt Wesley.
43: It was in '43 that KU's famed Iron Five of Charlie Black, Otto Schnellbacher, Ray Evans and Armand Dixon won the Big Six title, posted a 22-6 record but unfortunately got no chance to compete for the NCAA title. World War II duty caused a wide pre-tourney dispersal of a squad that many considered quite capable of winning the national crown. Wyoming eventually claimed the college championship. KU played its final game, at home, on March 6, beating Kansas State 47-30. The next morning coach Phog Allen took six of his players to Fort Leavenworth for induction into the military. Earlier, Charlie Black had left for Army Air Corps pilot training. Soon the entire roster was decimated by wartime duty.
44: The point total of Clyde Lovellette against St. Louis U. on 3-22-52 as KU marched to the national title. Then junior All-American B.H. Born set a conference record with 44 points against Colorado on 3-2-53 as Kansas again was en route to a national title contest.
45: It was in February of 1945 that Kansas State was about to snap a 17-game losing streak against the hated Jayhawks. KU led 32-31 and the Manhattan crowd noise swelled as K-State headed for an apparent goal to win. It was so noisy the crowd in jammed Nichols Gym did not hear a referee whistle signalling traveling by a Wildcat, negating the upset attempt. Owen Peck's free throw iced a 33-31 KU win but the crowd reacted angrily. Some KU car tires were slashed and fans and squad members were hassled. Eventually, that KU string against K-State reached 22.
46: The '46 season saw KU with Charlie Black, Otto Schnellbacher and Ray Evans back from World War II service post a 19-2 record. The only losses were to eventual NCAA champion Oklahoma A&M;, with towering Bob Kurland. One loss to A & M was in the regular season at Oklahoma City; the second was in the District 5 NCAA playoff game in Kansas City by a 49-38 margin. That '46 game also marked the broadcasting debut of veteran radio-television man Max Falkenstien, now in his 57th year as a voice of the Jayhawks. John Douglas scored 46 points for KU against Iowa State in 1977 and Wilt Chamberlain racked up 46 against Nebraska in 1958.
47: It was during the '47 season that coach Phog Allen suffered a head injury during a Jayhawk practice session and had to take some time off. Former star Howard Engleman, then a war veteran law student, took over for the final 14 games and KU had an 8-6 record during that span. The season record was 16-11.
48: Phog Allen returned from a medical leave of absence. He hired former star Dick Harp as his first full-time assistant. He ordered Harp to turn heaven and earth to recruit Bob Kenney of Winfield, Bill Hougland of Beloit and Bill Lienhard of Newton while he, Allen, would put special focus on Clyde Lovellette of Terre Haute, Ind. Phog told a doubting Harp to promise the three Kansans, as he would promise Lovellette, that KU was going to win a national championship and go to the Olympics with these four budding stars as the hub of the operation. It turned out that way, much to Harp's amazement.
49: The most heralded freshman class in KU history worked out in relative obscurity during the 1948-49 season. Freshmen were not eligible then, and the KU varsity went 12-12. Rumors persisted that "Phog had lost it" and might soon have to retire. No more league titles or NCAA contention for KU, skeptics whispered. But Allen and Lovellette and Co. would have the ultimate laugh.
50: KU's Fabulous Four Frosh of 1948-49 made their debut as sophomores in 1950. The Jayhawks tied for the Big Seven Conference championship and gained the chance to compete for the NCAA crown. One-game venture. KU was beaten in a district NCAA playoff by a Bradley team that later made the national finals and lost to City College of New York. The Bradley and CCNY achievements were tarnished badly about a year later when arrests were made involving players on their teams who were suspected of fixes and point-shaving. Also of significance was the 50-point explosion by KU's Bud Stallworth against Missouri in February of 1972. Stallworth had started for the 1971 KU Final Four team. The year 1950 was also when Dutch Lonborg, a former four-sport star at Kansas, came back to KU as athletic director after a long career of basketball coaching, mainly at Northwestern. Lonborg and Phog Allen were key men in the founding and development of the NCAA basketball tournament.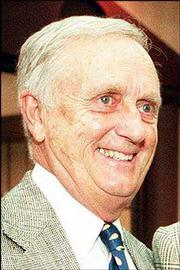 51: KU's hopes for the '51 season were high, with the Fab Four on hand as juniors. Yet the final record was 16-8 and KU finished second in the conference to Kansas State. At the time, only one team per league was included in NCAA tournament play. Kansas State reached the national finals where it lost to Kentucky in Minneapolis.
52: This was the payoff year for Phog, the Jayhawks and their fans as KU won the NCAA title and placed seven players on the all-victorious U.S. Olympic team that traveled to Helsinki, Finland. Allen was the Olympic assistant coach while Peoria's Warren Womble served as head man. The number 52 is also significant because it was the school record point total that Wilt Chamberlain scored (along with claiming 31 rebounds) in his KU debut against Northwestern here in December of 1956. KU then marched to the '57 NCAA finals but fell to North Carolina in triple overtime.
53: With six of its seven Olympic stars unavailable, Kansas was regarded as a mere middle-of-the road contender for the Big Seven title, let alone another major NCAA run. With a starting lineup that included only one man, B.H. Born, taller than 6-2, KU battled to the NCAA title game and lost by a single point to Indiana. The final KU record was 19-6, same as it had been when Kansas fell to Indiana in the 1940 title game. Allen's colorful, swashbucking Bandy-Legged Gamecock lineup that year included Born, 6-2 Hal Patterson, 6-1 Gil Reich, 6-0 Allen Kelley and 5-11 Dean Kelley.
54: With players like B.H. Born, Allen Kelley, Dallas Dobbs and Harold Patterson, KU was a favorite to win the Big Seven title and make another bid for NCAA honors. However, KU was tied by Colorado for the league crown, Colorado lucked out on a drawing from a hat and KU sat home since only one team per league could make the NCAA tourney. Colorado fell to Bradley in CU's only tourney appearance that year.
55: The number of victories as Kansas coach by the game's inventor, James Naismith. His 55-60 mark remains the only losing record in KU basketball history. He was succeeded by Phog Allen in 1907 and often told Phog, "Forrest, you don't coach basketball, you just play it." Allen, of course, became famous as The Father of Basketball Coaching, so KU counts the game's inventor and the father of coaches among its court icons. Red Letter Day: On March 1, 1955, Allen Fieldhouse was opened and dedicated to honor a legend who eventually gave KU 39 years of coaching and civic leadership contributions. KU also posted a 55-game home win streak from 3-3-84 to 1-30-88 that stands as a Big Eight record. It was snapped by Kansas State.
56: The 1955-56 season was Phog Allen's last at Kansas, and Wilt Chamberlain's freshman year. Allen was forced to retire at age 70 under an existing board of regents policy and could only help coach the celebrated Chamberlain as a freshman. Phog was succeeded by former star and assistant Dick Harp.
57: Wilt Chamberlain burst upon the basketball scene as a sophomore and sparked KU to the national title game with North Carolina. The 1956-57 season was also the first for head coach Dick Harp. KU wound up with a 24-3 record, the only losses being to Iowa State, Oklahoma State and North Carolina in that triple-overtime heartbreaker in Kansas City.
58: It was 1957-58 that was the second and final season at Kansas for Chamberlain, who left after his junior year to join the Harlem Globetrotters for an $80,000 package. The suspicious Wilt, fearing resentment because he left early, was long in returning to the bosom of Kansas. He did come back, with great fanfare here, at age 62 to see his No. 13 jersey retired and he called it "the greatest experience of my life." He died about a year later due to a heart condition. Many Kansas and professional NBA records still have Chamberlain's name on them, including a 100-point pro game and a full NBA season when he averaged over 50 points and 25 rebounds per game. But even with Wilt, Kansas finished second to Kansas State in the league in 1958, then the Wildcats reached the Final Four.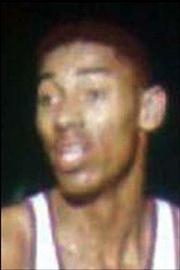 59: The '59 season was originally scheduled to be Wilt's finale at Kansas, when he'd help lead KU to more NCAA glory. But he left a year early and even though freshman teammates such as Ron Loneski, Bob Billings, Lynn Kindred and Monte Johnson returned, and hall-of-famer Bill Bridges was a key sophomore, KU was unable to do better than 11-14. The '57 loss to Carolina and the premature departure of Chamberlain triggered pressure that coach Dick Harp never could shake despite his winning record before he left after the 1964 season.
60: Kansas started its league season with a diappointing 2-3 record, then rallied to tie Kansas State for the Big Eight title. The Jayhawks featuring Bill Bridges and Wayne Hightower, beat Kansas State to make the NCAA Regional in Manhattan. KU beat Texas the first game but was whipped by Oscar Robertson and Cincinnati in the regional title match.
61: It was '61, the year of an anticipated Kansas NCAA presence that wasn't--because of sanctions against KU because of apparent misdeeds in aiding Wilt Chamberlain with his auto activities. The denial of a shot at the NCAA meet had a debilitating effect on the Jayhawk psyche despite the all-league presence of Bill Bridges and Wayne Hightower. KU had a 17-8 mark but only tied for second in the conference. League champion Kansas State got the conference's single tourney berth at a time when entrance was far more restrictive that today's 65-team throng.
62: The glitzy home court winning streak for Kansas from 2-26-93 to 12-9-98. Iowa posted an 85-81 non-league stunner to break the string. The year 1962 was also when former Jayhawk Wilt Chamberlain set a monumental record by scoring 100 points in an NBA game.
63: The opposing point total for KU's 80-63 NCAA title victory over St. John's in Seattle. That 63 was also the total that touted Stanford had to settle for a year ago when Kansas uncorked an 86-63 romp past the favored in Cardinal in NCAA play in St. Louis. Perhaps the most amazing aspect of that game was the way KU's Kirk Hinrich bounced back from a terrible ankle sprain in the preceding game against Holy Cross and wound up with 15 inspirational points, eight assists, five rebounds and outstanding overall play. Jeff Boschee had 19 points for the Jayhawks while Nick Collison scored 17 and Drew Gooden had 15.
64: The '64 season is Dick Harp's eighth and last as Kansas head coach. Harp leaves after a 13-12 final year and a career mark of 121-82. He is succeeded by asssistant Ted Owens, who then serves in the post for 19 years and takes KU to two Final Four tourneys.
65: The number of Kansas victories in NCAA tournament play from 1940 up to the current tournament. KU enters 2003 NCAA tourney action with a 65-31 record. Then when NCAA-bound Kansas beat North Carolina State on Jan. 5, 1991, KU's Terry Brown scored 42 points and teammate Alonzo Jamison got 23. Their 65-point combination broke the record for most points by a Jayhawk duo in a single game.
Bonus 66: Many still consider Ted Owens' 1966 team one of the best KU has ever had. Its season ended in the NCAA Regional at Lubbock when a Jo Jo White shot that would have won the game was nullified by a controversial call that said White stepped on the sideline before launching his long bomb. Evidence is that the call was wrong. KU was denied victory over a Texas Western team that eventually defeated Kentucky for the national title. Coach Ted Owens has often said that the 1966 KU squad was one of the very best he ever coached or had ever seen.
Copyright 2018 The Lawrence Journal-World. All rights reserved. This material may not be published, broadcast, rewritten or redistributed. We strive to uphold our values for every story published.