Olathe — Northbound Interstate 35 was closed for about 90 minutes after a jackknifed tractor-trailer spilled 125 gallons of diesel fuel.
The truck driver apparently swerved to avoid another vehicle on the highway Friday afternoon, said Capt. Bob Couture of the Olathe Fire Department. The tractor then hit a concrete barrier in the median, apparently piercing the fuel tank and forcing the trailer to jackknife.
The truck driver was taken to a Missouri hospital for treatment of minor injuries.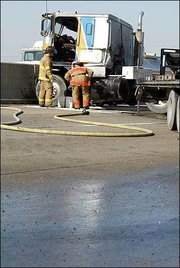 No other cars were involved in the accident, and no one but the truck driver was injured, Couture said.
The Kansas Highway Patrol closed all northbound lanes of the interstate while the fuel dribbled off the highway and collected in tire tracks and small trenches that were dug by firefighters on the scene.
Couture said the department first received information about the accident at 2:25 p.m. and left the scene about 4 p.m., when the patrol was preparing to reopen the interstate.
Couture said 350 pounds of absorbent granules were used to soak up the fuel, which he described as much of a "slick hazard" as a fire risk or any other kind of hazard.
Olathe firefighter Jason Stenberg waited in the department's hazardous materials truck while the granules did their work.
"It takes a really long time," he noted.
Copyright 2018 The Associated Press. All rights reserved. This material may not be published, broadcast, rewritten or redistributed. We strive to uphold our values for every story published.