Surprise, Ariz. — Dee Brown doubled twice and drove in two runs, helping the Kansas City Royals beat a split squad of Texas Rangers 12-4 Saturday.
Brown, trying to win a job as a reserve outfielder, leads the Royals with 14 RBIs this spring. The 1996 first-round draft pick is out of minor-league options.
"I'm having a decent spring, especially the last week," Brown said. "I'm not reading into anything at this point. I know people's minds can change from day to day."
Michael Tucker had three hits and drove in three runs, while catcher Mike DiFelice snapped an 0-for-15 skid with three hits. Rontrez Johnson, who joined the Royals after being claimed off waivers Friday, went 2-for-2.
"Knock on wood, we've been banging the ball around pretty good," Brown said.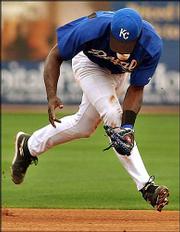 The Royals scored eight runs in the fourth inning against three Rangers pitchers. The inning included three walks, two wild pitches and six hits.
Albie Lopez, making his fifth spring start, earned the victory by allowing three runs on three hits in 32¼3 innings. Lopez's wife, Crystal, gave birth to a daughter Friday night.
Note: The Royals said OF Roscoe Crosby, a second-round draft pick in 2001, has given up football at Clemson and will arrive in camp next week. Crosby, a high school All-America receiver, played in nine games as a freshman at Clemson.
Copyright 2018 The Associated Press. All rights reserved. This material may not be published, broadcast, rewritten or redistributed. We strive to uphold our values for every story published.