Washington — Some thought war is inevitable, others clung to hope they could slow or stop it. Either way, people in Washington and around the world joined Saturday in an outpouring of dissent no less persistent than the buildup of forces ready to strike Iraq.
The cries against war were summarized on the swarming grounds of the National Mall by Sally Baker, a teacher from Albany, N.Y.: "It's not right. It's not just. It's not going to make us any safer."
People rallied worldwide, in some cases pressing close to symbols of American power: the Washington Monument and the White House in Washington, the U.S. air base in Frankfurt, Germany, and U.S. embassies in Greece and Cyprus. They also took to the streets throughout Europe, Asia and the Middle East.
The rhetoric against U.S. policy was harsh from the stage in Washington, but many in the crowd believed Saddam Hussein must somehow be contained -- only not by an invasion, or at least not yet.
Lewis Wheeler, who came from Boston, said Bush appeared all too eager to unleash the troops when he should be giving U.N. weapons inspections in Iraq more time to work.
"It seems like there is momentum building to use these soldiers," he said. "It's more glamorous to go to war than to hang in there with inspections for months and months and do the hard work."
In Baghdad, where the reality of U.S. power could arrive any day, hundreds of thousands protested against the policies of the country poised to invade them, in rallies organized by authorities.
Whether fatalistic or feeling they could still make a difference, Americans came from great distances to challenge the march toward war and President Bush's justifications for it. They said they were restless.
"The only thing I can do is get out in the street and say 'You're not doing this in my name,"' said Judy Ripley, 50, in Washington from Fort Myers, Fla.
Judy Robbins, 54, of Sedgwick, Maine, came on an 18-hour bus trip with her daughter Zoe, a nurse. "The alternative to being here," she said, "is just to stay home and give up."
District of Columbia police said 20 or more protesters, among about 100 who broke away from the rally, rushed inside the World Bank headquarters, where six were arrested for unlawful entry and others escaped by smashing a window.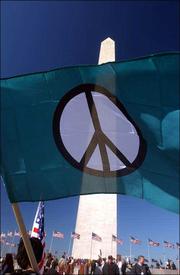 Fifty yards from the Washington Monument, a display of poster-sized photographs showed Iraqi citizens going about their everyday activities. They were described as future war victims.
Iraqi civilians were on Heidi Johnson's mind at a rally drawing several hundred people in Concord, N.H. "It about brings me to tears, the thought that women and children are going to be killed in this war," said Johnson, 53.
In Washington, U.S. Park Police said permits were issued for 20,000 to march but the gathering seemed larger. The force no longer estimates rally attendance.
Protest organizers estimated the crowd was in the tens of thousands..
Although Bush has not been swayed by demonstrations, Gary Sellani, 46, said "the protests around the world have given him great pain in the U.N. and given the U.N. backbone. That will probably be his downfall in 2004."
Copyright 2018 The Associated Press. All rights reserved. This material may not be published, broadcast, rewritten or redistributed. We strive to uphold our values for every story published.