Photography has come a long way since the daguerreotype was first demonstrated in the United States in 1839. The men and women who clicked the cameras through the years recently received recognition for their creative efforts.
Last year the U.S. Postal Service paid tribute to the "Masters of Photography" with a set of 20 stamps featuring the works of such imaginative individuals. Derry Noyes, designer of the stamps, says, "The stamp pane serves not only as a history of the art of photography in America but also as a capsule history of our country."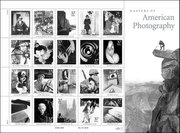 Those who had one of their works depicted on the stamps are the firm of Albert Sands Southworth and Josiah Johnson Hawes, Timothy H. O'Sullivan, Carleton E. Watkins, Gertrude Kasebier, Alvin Langdon Coburn, Edward Steichen, Alfred Stieglitz, Edward Weston, James VanDerZee, Dorothea Lange, Walker Evans, W. Eugene Smith, Paul Strand, Ansel Adams, Imogen Cunningham, Andre Kertesz, Garry Winograd, Minor White, Lewis W. Hine and Man Ray.
For information about these stamps, call (800)-STAMP-24. The Stamp Fulfillment Services of the USPS will tell you about current stamps and philatelic products available.
Copyright 2018 The Associated Press. All rights reserved. This material may not be published, broadcast, rewritten or redistributed. We strive to uphold our values for every story published.