Those who live near an ocean, sea or river often find -- and save -- relics from old ships. The metal pieces used on ships -- like chains, nails, pumps, hatch covers and fittings -- are now being used as decorations in gardens and even in living rooms. If the name of the ship that once used the piece is known, it adds to its historic and monetary value. An anchor would be an easily recognized maritime artifact. Small ships had small anchors, which are popular with collectors. They can be moved without special equipment. Anchors made before 1850 were usually hand-forged. Later anchors were sometimes made with hollow parts and movable arms to make them easier to use. If you want to decorate with an anchor, you can easily find reproductions. You can even search antiques shops for an old one. A worn look, nicks and other signs of use add to the value.
My family has had a Gorham sterling-silver coffee-and-tea set for many years. Most of the pieces have another mark as well -- the initials BS&F.; Can you identify that mark?
The BS&F; mark was first used about 1874 by Black, Starr & Frost, a silver and jewelry retail store in New York City. Gorham's New York City retail store merged with Black, Starr & Frost in 1929. The new store was named Black, Starr & Frost-Gorham Inc.
We inherited a sewing machine from my husband's grandmother. The word "Franklin" is written in gold across the top. The machine can fold down into its oak table-stand. The stand has three drawers on each side, and the machine operates by foot pedal. Can you estimate age and value?
Franklin sewing machines were manufactured by the Domestic Sewing Machine Co. of Norwalk, Ohio. They were sold exclusively by Sears from the late 1910s through the 1930s. The Franklin machine was similar to the Singer Model 27. The value of your machine depends on its condition. If yours still works, and if both the machine and its drop-head cabinet are in excellent condition, it could sell for $200 or more.
My Arts-and-Crafts-style table lamp is marked "EEB" in a monogram on the base. Can you identify the mark?
The mark was used by Elizabeth Eaton Burton (1869-1937), a Southern California artist. She opened her own studio in 1897. At first she made tooled leather equestrian gear, cushions, hangings and chests. Within a few years, she was designing metal and shell lamps, sconces and other objects.
My brother gave me an old, framed Barnum & Bailey circus poster. It's in excellent condition. I'd like to know what it's worth. It's about 24-by-16 inches and pictures three Chinese men hanging by their hair while they're drinking tea and eating rice. In the background, there are other men hanging by their hair or doing circus tricks. The title at the top reads "Barnum & Bailey, Greatest Show on Earth." At the bottom are the words "By the Hair of Their Heads, these troupes of Chinese artists perform their thrilling aerial acts." In the lower right corner are the words "Copyright 1916, Strobridge Litho Co., Cincinnati & New York."
P.T. Barnum's Greatest Show on Earth merged with James A. Bailey's circus in 1871. The Ringling Brothers organized their circus in 1884, and in 1907 they bought Barnum & Bailey's. From that point on, the circus was billed as "Ringling Bros. and Barnum & Bailey Circus." Many early circus posters were reproduced in the 1960s and '70s. Because your poster is in such good condition and because the name of the circus should have included Ringling Bros. by 1916, we suspect that your poster is a reprint. However, reprints of early circus posters sell for good prices. In excellent condition, a framed 1960s reprint could sell for up to $500.
My mother-in-law, who lives in Belgium, gave me a pottery vase that belonged to her mother. I've spent hours poring over books, looking for the mark on the bottom of the vase. It's a blue mark shaped like a shield. Inside the shield are the words "Dicor Limite" and the initials BFK. Under the shield are the overlapping letters CR. Can you help?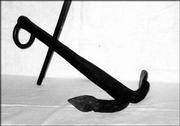 Your mention of Belgium helped us identify the mark on your vase. The BFK stands for Boch Freres Keramis, a firm that has been in business in La Louviere, Belgium, since 1841. The CR mark was used by Raymond Chevallier, who worked for the famous Longwy Pottery in France before joining Boch Freres in 1931. He succeeded Charles Catteau as the director of Boch Freres in the mid-'30s and worked there until 1954.
Tip
Use acne soap and water to clean a very dirty bisque doll.
¢
The Kovels answer as many questions as possible through the column. By sending a letter with a question, you give full permission for its use in the column or any other Kovel forum. Names and addresses will not be published. We cannot guarantee the return of any photograph, but if a stamped envelope is included, we will try. The volume of mail makes personal answers or appraisals impossible. Write to Kovels, (name of your newspaper), King Features Syndicate, 888 Seventh Ave., New York, NY 10019.
Copyright 2018 The Lawrence Journal-World. All rights reserved. This material may not be published, broadcast, rewritten or redistributed. We strive to uphold our values for every story published.