Jarad Mellard was tired of sitting in class and hearing about other researchers' work.
So Mellard, a Kansas University senior, started two lab projects of his own -- one measuring the flexibility of bee antennae, the other the interactions of plants living near one another.
"I've always wanted to have my own work that I could really pour energy into," Mellard said. "You don't learn as much if you just read the book and go to your classes."
Mellard has joined a growing contingent of undergraduate students who aren't waiting for graduate school to start their research careers.
In their Initiative 2001 strategic plan, KU administrators said all undergraduate students should "undertake a research experience that is discipline appropriate." It also noted that "KU's research mission is seen by many undergraduates as compromising, instead of enhancing, their educational experience."
Though they haven't made the research projects mandatory, as some universities have, KU officials say there is a new push to get undergraduates to do work of their own.
"I think there is a national attention being paid to this," said Barbara Schowen, director of the University Honors Program. "It's in line with universities and colleges in general talking about how better to get students engaged, which includes participating in research and providing service."
Schowen said it was impossible to know how many undergraduate students were participating in research projects, but she said the number seemed to be increasing. Participation in the Honors Program's annual Undergraduate Research Symposium might be an indication -- about 50 students presented at the symposium when it started in 1998; 70 participated at this year's March 8 event.
But Schowen said that represented only a fraction of the projects under way across the campus in a variety of disciplines.
Lots of projects
A look at the abstracts from this year's research symposium shows work in a variety of areas, including: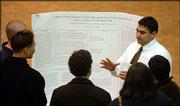 l Measuring ice sheets in Antarctica.
l Finding a contraceptive pill for men.
l Comparing environmental beliefs and practices of farmers near Lawrence.
l Using psychological profiles to determine voting patterns of Supreme Court justices.
Mellard, from Perry, worked on two projects related to his major -- ecology and evolutionary biology. In one, he charted factors for perennial plants living in the same area to determine which factors -- such as number of seeds, nutrient supply and order of introduction to the area -- affect how the plants grow.
The University Honors Program offers undergraduate research fellowships ranging from $500 to $1,400 for students. And some programs, including pharmacy and chemistry, offer summer programs for undergraduate researchers.
He admits the other project -- measuring the flexibility of bee antennae -- might lead some people to ask, "Who cares?" But the project could actually lead to military and NASA applications, he said.
"Actually, a lot of design and engineering concepts come from organisms," he said. "We learn a lot about how nature does it. NASA is interested in building robots. In order to do that, they want to build robots with sensory structures like antennae."
They could use the bee data to determine how flexible or long the robotic antennas should be, he said.
Historical research
And the projects aren't just in science. Victor Bailey, professor of history and director of the Hall Center for the Humanities, advised a student last year on a project analyzing how British public opinion shaped government policy during the Spanish Civil War.
The student, Joseph Pull, a senior from Colfax, N.D., spent a week in London reading newspapers from the 1930s.
"If you just use secondary materials, you're just simply echoing them and commenting on them," Bailey said. "You're not really bringing anything to the table yourself. You can talk about things until the cows come home in the classroom, but there's nothing like students going out and reading primary materials themselves."
Craig Martin, professor of biology, has had 100 undergraduates work in his plant physiology lab in the past 23 years. Martin said it's amazing so many students participate, considering there is no network for recruiting them to labs.
"There is no mechanism for students to follow," he said. "There's no path known to students. It's up to them. They have to pursue it. We don't have a way to recruit them. I think if we did, we'd be overwhelmed, and I think that would be a good thing to deal with."
There are a few incentives in place for undergraduate research. Some majors -- especially those in the College of Liberal Arts and Sciences -- require "research experience" to graduate with honors.
Fellowships
The University Honors Program offers undergraduate research fellowships ranging from $500 to $1,400 for students. And some programs, including pharmacy and chemistry, offer summer programs for undergraduate researchers.
Martin said he favored creating mandatory research work for undergraduates. He suggested creating an Undergraduate Research Center to promote the effort.
David Shulenburger, provost and executive vice chancellor, said his office has been working to find ways to encourage research among undergraduate students. First, administrators are trying to define what "research experience" is in different fields.
He'd like to see more research classes taken for credit and more faculty members include funding for undergraduate students in their grant applications.
Graduates could have their research experience noted on their transcripts, he said. And someday the university may consider making research a requirement.
"We want to make it from an individual-fit model to a broader model," he said. "The philosophy is that going to a research institution ought to offer students a different experience than going to another university."
Copyright 2017 The Lawrence Journal-World. All rights reserved. This material may not be published, broadcast, rewritten or redistributed. We strive to uphold our values for every story published.