Authorities call it "lab trash."
When drug dealers finish making methamphetamine, they often dump a heap of noxious garbage in a creek bed or farmer's field, police say. They toss contaminated milk jugs, propane tanks, coffee filters, coolers, lithium batteries, aluminum foil and bug sprayers with hoses.
"It's the equivalent of a small toxic waste site," said Jeff Curry, a deputy with the Franklin County Sheriff's Department.
On occasion, an unfortunate person walks by and sticks a hand into the pile. Or people pass by without realizing they've stumbled onto a crime scene.
That's why at least two area sheriff's departments are trying to give lab trash a higher profile this spring.
Last month, a county narcotics officer trained Douglas County public-works employees to spot lab trash, said Lt. Kenney Massey of the Douglas County Sheriff's Department.
And starting in April, the Franklin County Sheriff's Department will give a series of training seminars for area farmers, Curry said.
Douglas and Franklin Counties aren't exactly meth hotbeds. There were six methamphetamine lab seizures in Douglas County and 10 in Franklin County in , compared with 90 in Shawnee County, according to the Kansas Bureau of Investigation.
But authorities are trying to push prevention and public education, not just enforcement, as they fight methamphetamine, Curry said.
Curry's department started its education program after it received a grant from the Kansas Methamphetamine Prevention Project, a program funded by the federal government.
The grant also will buy "tamper tags" for farmers to put on tanks of anhydrous ammonia, a common farm fertilizer used in making methamphetamine. The tags help farmers know whether someone has been stealing from their tank, Curry said.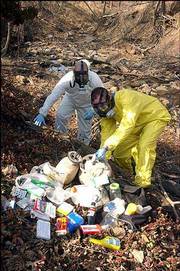 Common chemicals left at the site of a dump include acetone, ether, brake-cleaning fluid, sulfuric acid and lye.
It's more common to see lab trash this time of year, police said, because it's more comfortable to cook the drug outdoors in a well-ventilated area. Anhydrous ammonia, which often is found at dump sites in propane bottles, in high doses can cause death.
"If you get within 100 yards of a leaking anhydrous ammonia tank, your eyes will tear up and you'll turn your head," said Mel Squyres, chief financial officer of Douglas County's now-bankrupt Farmers Cooperative Assn.
In Douglas County, the usual protocol for cleaning up a dump site is to call the Drug-Enforcement Administration, which hires a private contractor to come to the site and clean it, Massey said.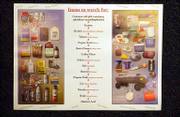 "Right now, luckily, the federal government pays for it," Massey said. "I've heard rumblings that that money may be drying up. If that dries up, chances are it's going to fall back on local entities."
It's possible that the public awareness and other efforts are helping ease Kansas' well-documented meth problem. Methamphetamine lab closures declined for the first time since 1994, the first year the state began actively tracking the closures.
In 1994, the number of closures was four. It rose steadily each year to 846 in 2001, but it declined to 672 in 2002.
Massey, former head of the joint city-county Drug Enforcement Unit, said he wasn't convinced the situation is getting better.
"It's probably just an evil that's still there and will be there for quite a while," he said.
Copyright 2018 The Lawrence Journal-World. All rights reserved. This material may not be published, broadcast, rewritten or redistributed. We strive to uphold our values for every story published.