Northeast Kansas' first major thunderstorm of the year brought heavy rain and hail that in some places was the size of pingpong balls.
A little over an inch of rain fell in downtown Lawrence in a downpour that began about 7:30 p.m. Wednesday, according to the weather gauge at the 6News studio at Seventh and New Hampshire. Pea-size hail also fell.
"I think everyone around Lawrence got pretty much an inch or more of rain," National Weather Service meteorologist John Woynick said.
Baldwin received 1.75 inches of rain in about 40 minutes, Woynick said.
The combination of rain and hail may have contributed to a multivehicle wreck in the eastbound lanes of Interstate 70 near the Lecompton interchange. The hail was reported to be about 3 inches deep, a Kansas Turnpike Authority dispatcher said.
Two people suffered minor injuries in the wreck and were taken by ambulance to Lawrence Memorial Hospital, the dispatcher said.
It also prompted an early end to Wednesday night's meeting of the Douglas County Commission. A sheriff's deputy's report of "quarter-sized to half dollar-sized" hail southwest of town cleared the meeting room in less than a minute, soon after commissioners adjourned to save their cars outside.
Pingpong ball-sized hail was reported in some areas of Jefferson County, Woynick said, although a dispatcher with the Jefferson County Sheriff's Office said no damage had been reported.
The downpour flooded some Lawrence intersections, though not enough to impede traffic. But for a while the storm caused traffic lights at Sixth and Kentucky and Sixth and Vermont streets to lock up on red in all directions, slowing traffic.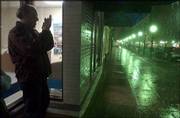 Westar Energy officials said only two or three power outages were reported in Lawrence.
Wednesday afternoon Douglas County was placed under a severe thunderstorm watch until 9 p.m.
The last time a storm dumped an inch or more on Lawrence was Aug. 13, 2002, 6News weather forecaster Ross Janssen said. The last time three-quarters of an inch of hail fell was on Oct. 6, 2002.
Sunflower Broadband experienced no problems during the storm, general manager Patrick Knorr said.
"Everything came through pretty well," he said. "We had back up power and technicians standing by, but we didn't need them."
The next chance for a severe storm in Lawrence will be Sunday afternoon and Monday and Tuesday, Woynick said.
Here are reports of rainfall received Wednesday night by area Skyhawks:¢ Bruce Stucky measured 1.17 inches of rain in southeast Lawrence. His area also received "a lot of 1/4-inch hail with a few pieces up to 1/2-inch mixed in."¢ Ken Blair recorded 1.12 inches of rain as of 9:15 p.m. at his house just south of Allen Fieldhouse.¢ As of 9:30 p.m., Randy Tongier measured 1.2 inches of rain in the Deerfield area northwest of Sixth Street and Lawrence Avenue.¢ William Winkler measured 1.14 inches of rain with "a lot of pea-sized hail," northwest of 26th and Iowa streets.
Copyright 2018 The Lawrence Journal-World. All rights reserved. This material may not be published, broadcast, rewritten or redistributed. We strive to uphold our values for every story published.