Fort Drum, N.Y. — The military confirmed Wednesday that 11 of the 13 soldiers aboard a Black Hawk helicopter that crashed during training died when the helicopter went down in a remote, wooded area of a base in northern New York.
One of the two survivors was in critical condition Wednesday, but he was conscious and talking, and doctors believed he would recover, Maj. Gen. Frank Hagenbeck said. The other was in serious condition with broken bones.
Hagenbeck said the two soldiers talked to him Wednesday morning about the crash, but he declined to release any details.
"Obviously they're very grateful they're alive, but they're heartbroken and traumatized by the loss of their brothers," he said.
A memorial for those who died was planned for Friday.
"My deepest heartfelt condolences go out to the families of all these soldiers," Hagenbeck said.
The soldiers had just completed a routine assault exercise and were on their way back to Wheeler-Sack Airfield when the helicopter crashed Tuesday afternoon about three miles from the field.
All 13 soldiers aboard the helicopter were active members of the 10th Mountain Division. The four crew members were from the division's Aviation Brigade. The infantrymen were from the Second Brigade.
Killed in Tuesday's crash in New York were Capt. Christopher E. Britton, 27, of Ohio; Chief Warrant Officer 3rd Kenneth L. Miller, 35, of California; Staff Sgt. Brian Pavlich, 25, of Port Jervis, N.Y.; Sgt. John L. Eichenlaub Jr., 24, of South Williamsport, Pa.; Sgt. Joshua M. Harapko, 23, of Peoria, Ariz.; Spec. Lucas V. Tripp, 23, of Aurora, Colo.; Spec. Barry M. Stephens, 20, of Pinson, Ala.; Pfc. Shawn A. Mayerscik, 22, of Oil City, Pa.; Pfc. Tommy C. Young, 20, of Knoxville, Tenn.; Pfc. Stryder O. Stoutenburg, 18, of Missoula, Mont.; and Pfc. Andrew D. Stevens, 20, of Rockingham, N.H.
The two injured soldiers are Spec. Dmitri Petrov, who was in critical condition, and Spec. Edwin A. Mejia, who was in serious condition. Ages and hometowns for Petrov and Mejia were unavailable.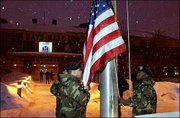 Copyright 2018 The Associated Press. All rights reserved. This material may not be published, broadcast, rewritten or redistributed. We strive to uphold our values for every story published.