AUBURN HILLS, MICH. — Chauncey Billups was so good it almost made Phil Jackson sick.
Billups scored a season-high 33 points and made several dazzling plays during a 10-0 surge early in the fourth quarter as the Detroit Pistons beat the Los Angeles Lakers, 111-88, Wednesday night.
"Too much Billups tonight," Jackson said. "He made me want to throw up."
The Pistons snapped a nine-game home losing streak against the Lakers -- their longest against any team -- with their first victory over their old rivals at The Palace since Dec. 20, 1991.
Billups said he felt "unstoppable" at times, and he looked like it one game after scoring 31 in a win over Golden State.
The powerful point guard -- who scored six points in just over two minutes during the decisive run -- began the fourth-quarter burst by splitting two defenders and making a crafty scoop shot from outside the right side of the lane.
"That was just a little scoop shot, a playground play," Billups said with a grin. "I don't practice that shot, I'll say that."
The Eastern Conference-leading Pistons -- who have won three straight after losing a season-high seven consecutive games -- don't have stars like Kobe Bryant and Shaquille O'Neal. But Detroit does have a top-to-bottom team that rivals any in the league.
Detroit rookie reserve Mehmet Okur scored a career-high 22 points, reserve Corliss Williamson scored 17 points, Richard Hamilton added 14, and Ben Wallace had 21 rebounds and 10 points.
"There are not many teams that can match our bench," Billups said.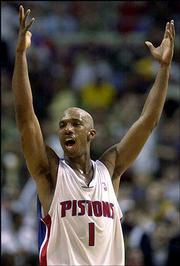 O'Neal, who scored a season-low 13 points in a 17-point loss Tuesday at Chicago, had 24 points and 13 rebounds. Bryant scored 21 on 9-of-23 shooting.
Robert Horry scored 13 for the three-time defending champions, who have lost two straight after winning nine of their previous 10.
"This hurts us, but we aren't about to give up," O'Neal said. "We just have to keep playing as hard as we can.
"They played a little bit harder down the stretch than we did. We still had a couple of chances to win, but Detroit got all the loose balls and played with a lot more energy."
76ers 96, Pacers 93
Philadelphia -- Allen Iverson had 31 points, shooting 16-of-19 from the foul line, and Keith Van Horn scored 17 of his 19 points in the second half as Philadelphia came back from a double-digit deficit in the fourth quarter. The Sixers improved to 12-2 since the All-Star break. Indiana has lost six in a row and 12 of 13.
Hawks 111, Bucks 92
Atlanta -- Shareef Abdur-Rahim scored 29 points, and Jason Terry had 22 points and 10 assists. One game after all five Atlanta starters scored in double figures for the first time in 22 games, the Hawks continued to share the wealth. They set a season high with 35 assists -- with Dion Glover getting a career-high eight -- and shot 56 percent to win for the fourth time in five games.
Jazz 111, Magic 108
Orlando, Fla. -- Karl Malone scored 24 of his season-high 40 points after halftime, and his steal in the closing seconds sealed Utah's win. Malone passed the 36,000-point mark on a three-point play with 4:20 remaining in the first half. Only one player in NBA history has more -- Kareem Abdul-Jabbar, with 38,387.
Spurs 111, Timberwolves 99
Minneapolis -- Stephen Jackson scored 22 points, and Tim Duncan had 18 points and 14 rebounds as San Antonio ended Minnesota's 17-game home winning streak. The Spurs led most of the way in sending the Timberwolves to their first setback at Target Center since a 105-97 loss Jan. 4 to Utah. The matchup between MVP contenders Duncan and Kevin Garnett was a statistical draw, as Garnett scored 17 points and added 13 rebounds. But Garnett shot just 6-of-19 as the Wolves trailed by as many as 20 points.
Grizzlies 124, Bulls 95
Memphis, Tenn. -- Stromile Swift collected his fifth straight double-double with 22 points and 10 rebounds as the Grizzlies tied the franchise record of 23 victories. Swift connected on all eight of his shots from the field and added three blocks as the Grizzlies won their fifth in a row, tying the franchise record for consecutive wins.
Trail Blazers 125, Raptors 103
Portland, Ore. -- Damon Stoudamire, called on to start when Scottie Pippen had knee trouble, had 20 points, seven rebounds and seven assists. Stoudamire, who has expressed frustration over his playing time this season, was making just his 10th start. Pippen was a late scratch because of swelling in his left knee and watched the game in street clothes.
Rockets 118, Clippers 114, OT
Houston -- Steve Francis scored six points in overtime and made a key steal as Houston capitalized on a free-throw lane violation against Andre Miller. Miller had a chance to win the game for the Clippers in regulation when he was fouled by James Posey with one second left and the score tied 104-104. Miller made the first free throw, but it was disallowed because of his second free-throw lane violation of the game. He then missed the second free throw, sending the game into overtime.
Copyright 2018 The Associated Press. All rights reserved. This material may not be published, broadcast, rewritten or redistributed. We strive to uphold our values for every story published.