COLORADO SPRINGS, COLO. — The U.S. Air Force Academy has had its own rape counseling hot line for seven years. Yet dozens of female cadets have gone outside the system and sought help instead at a civilian rape crisis center.
The role of TESSA, the counseling center in Colorado Springs, illustrates what some say are pervasive fears among academy women that they would be punished or their confidences betrayed if they reported that they had been raped.
"In the majority of these cases, the victims were seeking out a completely confidential resource because they were eager to get the help they need to heal without sharing that information in a way that may influence their military career," TESSA executive director Cari Davis said. "If you want to be a fighter pilot, you don't have any other choices."
TESSA, which stands for Trust Education Safety Support Action, said at least 38 cadets had sought help at the center since it began offering rape counseling in the 1990s in a two-story brown bunker-like building 15 miles from the academy.
In 1993, sexual assault allegations prompted the academy to establish a Center for Character Development to counsel rape victims and teach cadets ethical conduct. It set up a 24-hour rape hot line three years later.
The hot line is run by volunteer cadets trained to counsel victims. There have been at least 99 calls reporting some form of sexual assault, from inappropriate touching to rape, according to the academy.
But Jessica Brakey, of Dodge City, Kan., a 23-year-old former cadet who claims to have been raped, said she did not trust the hot line.
"I kept it all inside because the first thing you learn is to keep your mouth shut and don't make waves," said Brakey, who did not seek help at TESSA. "It's a very small tight community, and everyone knows everything. Reporting to the hot line could be like broadcasting it over campus. You never know."
In a burgeoning scandal that has drawn comparisons to the Tailhook furor that rocked the Navy in 1991, the Air Force has identified at least 56 allegations of rape or sexual assault at the academy in the past 10 years. Officials believe there are many more cadets who have not come forward.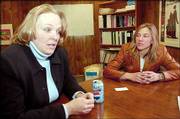 A 17-member Air Force investigation team has spent about two weeks in Colorado Springs looking into cadet claims. It said it hoped to make recommendations by the end of the month to ensure that female cadets are safe and that sexual predators are punished and removed from the academy.
Air Force investigators met with TESSA officials this week to talk about cadets' fears. But confidentiality rules prevented the counselors from discussing any specific cases.
"I feel (investigators) were taking the information very seriously, that they were very thoughtful and concerned, genuinely concerned, about these reports," Davis said.
The TESSA center, one of 1,300 rape crisis centers in the nation, was originally created in 1977 to help domestic violence victims.
In recent years, TESSA's $1.7 million budget has been cut to $1.5 million because of government cutbacks and less in donations.
Copyright 2018 The Associated Press. All rights reserved. This material may not be published, broadcast, rewritten or redistributed. We strive to uphold our values for every story published.