Salina — Once Ottawa High found its range, Lansing had to find its bus.
The Cyclones nailed four straight three-pointers as part of a second-quarter run that propelled them to an 80-58 victory Wednesday at the Class 4A state boys basketball tournament in the Bicentennial Center. Shrugging off a sluggish start never looked so easy.
"We didn't want them to stop shooting. We just wanted them to do it in the flow of the offense," OHS coach David Grover said.
It was the barrage Ottawa (21-3) hit opponents with all season. The Cyclones have scored at least 90 points five times this season and topped 100 twice -- mostly due to torrid shooting and a relentless full-court press. They did both during the second quarter, transforming a 14-13 deficit into a 41-25 halftime lead.
Ottawa, which hit only four of 13 shots in the first quarter, including one of eight from behind the arc, started slow, trading baskets with the Lions (17-7).
But that changed.
OHS senior Michael Cation, who finished with 12 points, nailed a three from the wing, giving the Cyclones their first lead, 20-18. Ottawa never slowed, outscoring the Lions, 21-7.
Junior Lee Baldwin hit a three a minute later, and junior Gabe Sheffield and senior Jarod Sigmund did the same in a 40-second span as Ottawa forced three Lansing turnovers and kept rolling.
"That's what all those line drills were for in November," said Baldwin, who finished with a team-high 21 points on 7-of-13 shooting. "For all the film were watched of them, it didn't look like they dealt with pressure very well. I don't think they've seen that kind of pressure all year."
Lansing senior Hosea Morgan scored 21 points, but 15 came in the first half as he was saddled with four fouls for most of the second half. Without Morgan, Lansing couldn't break the press, couldn't score and couldn't hang with the Cyclones, who are perfect against 4A schools this season.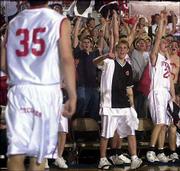 The huge opening-round win came without a huge game from 6-foot-8 senior Ross Thompson -- Ottawa's leading scorer -- who was held to just five points. It was the first time Thompson failed to score in double figures this season.
Even without Thompson's scoring, the Cyclones couldn't be stopped. Ottawa's bench scored 31 points, including 10 from junior Clint Bones.
"You always talk about how your best player has to come up big in big games, but we have a lot of players that don't get a lot of ink that were the difference," Grover said. "Depth was important, and tempo was important. Their first five were good, but I like our chances when we get to the bench."
It also was the first time in four trips Grover won a state-tournament game. Ottawa reached state as a 5A school in 1996, then went to Salina in '98, '01 and this season.
"I think that after 17 years of coaching, it's just hard enough to get here," Grover said. "Our players had nothing to do with the previous struggles.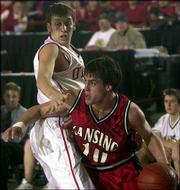 "But, guys, I won't lie to you. It feels to good to stick around."
Ottawa will play Colby (20-4) in Friday's semifinals at 8:15 p.m. The Eagles beat Andale, 64-61, with a last-second three-pointer Wednesday.
Colby has only one player taller than 6-3, which reminded Baldwin of Ottawa's 54-53 sub-state semifinal win over Fort Scott. The Tigers were a short, scrappy team that gave Ottawa, which has five players taller than 6-2, all it could handle.
"I think we learned our lesson about that with Fort Scott," Baldwin said. "I don't think anybody's ready to go home early from out here."
Copyright 2018 The Lawrence Journal-World. All rights reserved. This material may not be published, broadcast, rewritten or redistributed. We strive to uphold our values for every story published.