A new west Lawrence shopping area will be home to an expanding Topeka-based chain that sells used CDs, DVDs and video games.
CD Tradepost is one of five new tenants moving into the new shopping area adjacent to the Hy-Vee Food & Drug Store at 4000 W. Sixth St. Chipotle Mexican Grill, Papa Murphy's Take-N-Bake Pizza, Subway and Cingular Wireless also have signed deals to become tenants in the development.
Lawrence residents Jerry and Linda Morton bought the franchise rights to the CD Tradepost store, which opened Friday. Their son Clark Morton will be general manager.
Jerry Morton said he decided to locate the store in west Lawrence because he hoped it would allow the business to attract a varied clientele.
"I hope to get a fair amount of KU students, but we're not really geared to them," Morton said. "We're geared to the high school and junior high kids that play the games, and the families who want the movies and the entertainment. That's why we're not located downtown."
The store -- which buys and sells used CDs, DVDs and video games -- marks the first time the 4-year-old company has sold the rights for a franchise store. Topeka resident Dennis Strobel started the company with two stores in Topeka after he noticed that entertainment stores generally concentrated on music, movies or videos.
"His idea was to put them all together," said Kacy Douglas, marketing manager for the company. "And we try to do it in an upscale atmosphere. We make sure it doesn't feel like your typical pawn shop."
Strobel went on to open company-owned stores in Salina, Manhattan and Wichita, but he chose Lawrence for the first franchise location.
Douglas said the company wanted its first franchise store to be in a city close to Topeka so that it could receive plenty of assistance from corporate headquarters. Company officials hope the Lawrence store will serve as a model for up to 12 other franchise stores -- primarily in Kansas, Nebraska and Missouri -- they hope to launch this year.
Company officials also were attracted to Lawrence because of its strong local music scene. Douglas said the company had a program that allowed local bands to sell their albums on a consignment basis at the store. One of the company's Topeka stores features albums from more than 70 local bands.
"It's a selling point for us because a local band isn't going to be able to go into a Target or a Wal-Mart and get their music on the shelves," Douglas said.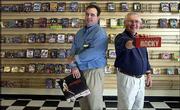 Jerry Morton said the store might benefit from at least one other factor -- the slow economy.
"We decided to do this before the economy reached its southern tip, but we haven't been discouraged by the economy," Morton said. "We think it may cause people to be more interested in buying previously owned entertainment items. We think it actually may give us some advantage."
In other tenant signings at the development:
l Chipotle Mexican Grill hopes to open at the center by mid- to late April, general manager Mike Vogel said. The store will be the second Lawrence location for Chipotle, which also operates a restaurant at 911 Mass.
Vogel said the company decided to open another store in town because it wanted a location with greater accessibility.
"We don't think it will hurt our downtown business at all, but we know we have customers who would come visit us more often than they do if we had a location outside the downtown area," Vogel said. "And with Free State High School and the chances of Wal-Mart going in out there, it makes a lot of sense to be in that area."
l Papa Murphy's Take-N-Bake Pizza opened eight days ago. The store is the second Lawrence location for the company, which also operates a location on South Iowa Street.
The company sells premade pizzas that customers bake at home. Ray Cross, general manager for the two stores, said company officials decided to add a second location because they noticed many of their customers came from the northwest area. Cross said he also liked the idea of being next to a supermarket.
"We think it will be really nice for moms who are doing grocery shopping and don't want to go to all the effort of making a meal," Cross said.
l Scott Taubin, real estate agent with The R.H. Johnson Co., which owns the shopping area, said the company also had signed leases with a Subway sandwich shop and Cingular Wireless.
The real estate company previously announced deals with Alvin's Wines & Spirits, Supercuts and Pride Cleaners. The development has three store spaces left, Taubin said.
Copyright 2018 The Lawrence Journal-World. All rights reserved. This material may not be published, broadcast, rewritten or redistributed. We strive to uphold our values for every story published.