The gas has been underneath the eastern half of Kansas for thousands of years, and it's finally getting some attention.
The methane formed by coal beds as much as 1,100 feet beneath the surface could save the future of energy in Kansas, some state experts say.
"The potential for coal bed methane in the eastern third of Kansas is huge, but it's still potential," said Lee Allison, director of the Kansas Geological Survey. "It's new enough we're not sure how much of that potential is going to be realized."
Gas production in Kansas has declined since the late 1970s, mainly because the huge Hugoton gas field is literally running out of gas. The Hugoton field in southwest Kansas once could produce 900 billion cubic feet a year, enough to heat about a million homes. That production is down to about 300 billion cubic feet a year.
That has officials at the Kansas University-based geological survey and energy companies looking for other places to find natural gas.
Enter coal bed methane, which is found underground across the eastern third of Kansas. It's expensive to drill -- about $85,000 to $90,000 per well -- but increasing natural gas prices are making the projects worthwhile for some businesses.
Traditional methane is found in limestone and sandstone structures. Aging coal about 300 million years old produces similar methane that can be used for heat.
Thus far in Kansas, drilling for coal bed methane is concentrated in the southeastern part of the state, with most activity near Chanute. But geological survey officials expect the trend to work its way north toward Lawrence in the next few years.
'Cards still out'
Devon Energy, based in Oklahoma City, has one of the largest coal bed methane fields in Kansas, near Chanute. The company drilled the first of its 153 wells on 300,000 acres in the summer of 2001. Devon officials expect the wells to produce gas for 15 or 20 years.
"Right now, I'd say the cards are still out," said John Ed Singleton, who manages the gas field. "We're still evaluating. We're pretty encouraged by the results."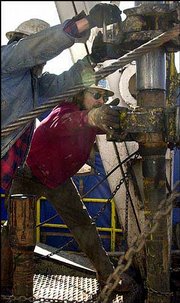 He said Devon had a team of workers who explained mineral rights to owners of property where his company would like to drill. Property owners receive a 12.5 percent royalty on the gas produced.
Larry Brady, senior scientist for the geological survey, said each well could produce from 50,000 to 100,000 cubic feet of methane per day, enough to heat from 150 to 600 homes.
Brady said it was still too early for most companies to make a firm commitment to coal bed methane projects.
"It's really an economically driven thing," Brady said. "It's not a bonanza. You're not going to drill down and have it blowing out of the ground in the classical movie style. But if you can drill the wells cheap and get a good price for the gas, it could be worth it."
Moving north
If companies have success with wells in southeast Kansas, Brady expects them to head north. He said some companies had begun inquiring about leasing land in this part of the state, especially in Miami and southern Johnson counties.
He said coal was thinner in this part of the state, which may mean there's less gas here.
Kansas still produces more gas than it consumes, but that may be reversed in a few years. Overall, the state imported $1.6 billion in energy last year, ending a tradition of being an energy exporter.
Allison, the geological survey director, said the Hugoton gas field produced 28 trillion cubic feet of gas in the last 80 years. Coal bed methane, he said, could produce between 5 trillion and 15 trillion cubic feet.
"It could be a huge impact on the Kansas economy," he said. "It could give us the ability to remain self-sufficient with natural gas."
There are three stages to coal bed methane development:
1. A company drills 600 to 1,100 feet deep into 300-million-year-old coal. At first, for months or weeks, the well produces more salt water than gas. The salt water must be re-injected into a lower rock formation for disposal.
2. After most of the salt water is removed from the coal, the well produces between 50,000 and 100,000 cubic feet of methane gas per day, enough to heat 150 to 600 houses.
3. After 15 to 20 years of production, the well's gas pressures decline to the point it is not economical to keep the well in operation.
Copyright 2018 The Lawrence Journal-World. All rights reserved. This material may not be published, broadcast, rewritten or redistributed. We strive to uphold our values for every story published.