Laura Denneler is skeptical of claims that the Lawrence school district can save $1.4 million annually by closing three elementary buildings.
The mother of two children at Centennial School, which is slated to close along with East Heights and Riverside schools, isn't alone. The district's projected savings from consolidation has been repeatedly challenged by school board candidates rallying against the closing of the schools and the proposed $59 million bond for school construction.
Until Wednesday, the district offered no itemized numbers to back its claim.
"That caused me to become frustrated," Denneler said. "That information should be available to patrons of the district."
Scott Morgan, school board president, released an accounting of the $1.43 million in net savings the district would reap during the 2003-2004 school year if Riverside, Centennial and East Heights were not operating.
"These are hard numbers," Morgan said. "We can budget off of them."
Here's a savings breakdown: Riverside, $529,997; Centennial, $483,032; East Heights, $482,226.
About $1 million in expenditures at the three schools would follow students to their new schools, Morgan said.
He said consolidation would reduce the need for three principals who now account for $203,000 in salary and benefits. Based on enrollment projections, he said, reducing the number of elementary schools to 15 would require the employment of 10 fewer classroom teachers, saving $431,000.
Teachers from Riverside, Centennial and East Heights would be shifted to other schools to cover enrollment increases, retirements and resignations, he said.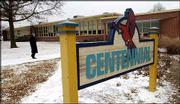 "Ten teachers ... would more than be made up by attrition," Morgan said.
He said savings in 17 other categories ranging from nursing to utilities and special education to insurance would generate the remainder of the $1.4 million.
During the primary campaign for school board, candidates questioned the district's assertion that consolidation would free $1.4 million for reinvestment in teacher salaries and academic programs.
Cille King, who finished seventh in the primary to advance to the April 1 general election, said she was convinced that the district's number was a work of fiction.
"I think that anywhere near $1.4 million savings is not realistic," King said.
She said Lawrence district officials had previously touted inflated numbers on what would be saved by closing Grant School, which happened last year.
Morgan, who also advanced to the general election, said the financial summary of consolidation savings was a good-faith effort to give voters information they needed to make a decision about the bond.
"It does no good to mislead the public," he said. "This says the district isn't lying to them."
Though Denneler hadn't had opportunity to fully review the information Wednesday, she said the document would be important to shaping her opinion about the district's facility planning. Her two children -- a third-grader and a kindergartner -- attend Centennial, and consolidation is an emotional issue in her household.
She began asking district staff for a detailed summary of projected savings in mid-February, but to no avail.
Recent comments by school board member Austin Turney that budget problems might prompt closure of Centennial and East Heights in May added urgency to the quest for details, she said.
"It's a hard pill to swallow," Denneler said. "It's my kids' school. We need to be informed and understand what is going on."
Copyright 2018 The Lawrence Journal-World. All rights reserved. This material may not be published, broadcast, rewritten or redistributed. We strive to uphold our values for every story published.