Moscow — The typewritten letters on a yellowing page spell out the end of an era in striking shorthand. Next to the time -- 9:50 p.m., March 5, 1953 -- is just a brief entry: "Comrade I.V. Stalin died."
So ends a medical report detailing Josef Stalin's last four days, as he lay dying in his Moscow dacha. It is part of a new exhibit at Russia's federal archives, whose officials hope it will help dispel decades of speculation that the Soviet dictator was done in by a Kremlin intrigue.
If mysteries about Stalin's demise persist, they are dwarfed by the conflicting views and emotions that surround his life -- and his role in the troubled history of a country that seems unable to break his spell 50 years after his death.
"There may be no other figure in Russian history of the last century who has provoked such different evaluations, from fierce hatred to consecration," said historian Yuri Polyakov, a member of the prestigious Russian Academy of Sciences.
For some, Stalin was a giant who bore the Soviet Union on his shoulders to victory in World War II, hauled it onto the front line of the industrial age and kept ironclad order at home while turning the country into a superpower with the clout to make its Cold War foes shudder.
"He was the best -- as a chief, as a leader. He lifted the country out of the ruins," said Natalya Vekshina, 64, who had taken her grandson to a separate Stalin exhibit, across town, that focuses on the dictator's cult of personality -- the propaganda that portrayed him simultaneously as a god and a good guy.
"We need a leader like him now," Vekshina said.
Larisa Tsvizhba, at the archive exhibit, disagreed. She said Stalin left a "sinister mark" on the Soviet Union and stunted its growth by decimating a generation. "When millions of people die for no apparent reason -- the best people -- what kind of progress can there be?"
Stalin's repressions "touched if not every person, then every other person in the country," said Tsvizhba.
Russian officials have said they believe more than 20 million people were victims of communist purges before Stalin's death. More than 10 million are said to have died.
Like many of Stalin's ardent admirers, Vekshina is from a generation that mostly suffered from the Soviet collapse. She lost her engineering job, while her scientist husband is "a big man in his field -- but now he's impoverished."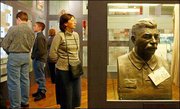 But it's not only the elderly who yearn for Stalin's strong hand.
"He is the symbol of a healthy nation," said Alexei Fedyakin, 27, a political science graduate student who came to see the "Stalin: Man and Symbol" exhibit and wrote a diatribe in the visitors' book complaining about material showing Stalin in a bad light.
Those items -- records of executions, and artwork depicting Stalin holding the keys to a prison cell stretching across the Soviet Union -- reflect the backlash that came in two waves, one soon after his death and another in the late 1980s, with Mikhail Gorbachev's glasnost.
In 1956, Soviet leader Nikita Khrushchev denounced Stalin's cult of personality, and his body was removed from its place next to Lenin in the Red Square mausoleum in 1961. But it was buried nearby, alongside the Kremlin wall, and much of the truth about Stalin's excesses did not emerge until the Gorbachev era.
The sharp criticism of Stalin that held sway as the Soviet Union collapsed waned along with the euphoria of Russians hoping for a swift, smooth transition to democracy. Stalin's star has brightened for those angered by lawlessness, economic uncertainty and their country's decline on the world stage.
Oleg Orlov, head of the human rights organization Memorial, said that frustration helped fuel the rise of President Vladimir Putin, a former KGB colonel who has restored some Soviet-era symbols and has been careful in his criticism of Stalin.
"Putin arrived on this wave -- on promises of stability and pride for one's country as a great power, and of a restoration of order -- and a major part of this ideology was pride in the past," Orlov said.
Copyright 2018 The Associated Press. All rights reserved. This material may not be published, broadcast, rewritten or redistributed. We strive to uphold our values for every story published.