Kansas City, Mo. — Four-year-old Julianne Cook still bears the scars from a pit bull attack that nearly killed her.
Julianne's father, David Cook, displayed the bloodied jacket that may have saved his daughter's life when he asked the Sterling Council to ban pit bulls from the central Kansas town. The Cooks' 12-year-old daughter also was hurt when the dog ripped Julianne from the older girl's arms last March.
"It looks like someone laid that little girl (Julianne) down and stabbed her repeatedly with a butcher knife," said Sterling Mayor Rod Willis. "Anyone who saw that wouldn't have a problem passing an ordinance."
Sterling, population 2,200, last May became one of dozens of communities across the country to ban breeds with a reputation for aggression. Pit bulls and Rottweilers already living in Sterling were allowed to remain.
Many other communities are requiring the owners of pit bulls and several other breeds to keep the animals caged and muzzled, or requiring them to buy expensive insurance.
Though no national statistics are kept, the National Association of Counties received a spike in the number of communities requesting information about vicious dog ordinances after a high profile California case last year, said Jacqueline Byers, director of research for the Washington, D.C.-based group.
In that case, two Presa Canario dogs killed a San Francisco woman, and the dogs' owners were sentenced to prison.
"I think those kinds of events heighten people's awareness for the need for regulations," Byers said.
Attacks, like the one in Sterling, often prompt the bans. Rottweilers were included in the Sterling ban, partially because three dogs of that breed bit people in town the same weekend the sisters were attacked in their yard.
Breed or behavior?
The Humane Society of the United States is opposed to breed-specific bans and restrictions, as is the American Kennel Club. The groups say dogs should be judged on their behavior, not their breed.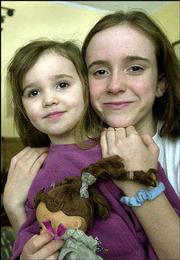 "It's irresponsible owners (who cause problems), people who get the dogs for the wrong reason, people who raise them to protect their property," said Anna Marchy, of Alamo, Calif., a volunteer with Pit Bull Rescue Central. She said her pit bull was cuddled up with her Chihuahua during a telephone interview for this story.
Marchy said her group had to find homes for what seemed to be a growing number of dogs made homeless after their communities ban or restrict the breed.
Dog banning is nothing new, said Wayne Pacelle, senior vice president of the Humane Society.
"The only thing that changes over time is the breeds targeted," Pacelle said. "The wrong people often are drawn to certain breeds, and then they stimulate or shape behaviors in the dog that result in social and public safety problems. At one point German Shepherds were macho ... then it became Dobermans, then Rottweilers. Now, it's pit bulls."
Pit bulls targeted
Bred for centuries as fighters, pit bulls have powerful jaws and incredible endurance.
"A pit bull gone bad is much worse than a Pekinese gone bad," Pacelle said. "But there's nothing inherent in the dog that causes them to be aggressive to people, though they may have more innate aggression to other dogs."
The Centers for Disease Control and Prevention have reported that from 1979 to 1988, at least 25 breeds were involved in fatal dog attacks -- but said Rottweilers and pit bulls were responsible for about half of the fatal attacks.
Pacelle said banning pit bulls was particularly difficult because the dogs were hard to identify. Pit bull is a generic term used for several breeds, including Staffordshire Terriers, American Staffordshire Terriers and mixtures of the breeds.
Forced insurance
Other municipalities now require owners of certain breeds to take out costly and hard-to-find liability insurance policies on the dogs.
After the San Francisco attacks, some insurance carriers, including Nationwide Mutual Insurance, stopped providing homeowners coverage to owners of pit bulls and several other breeds, said Alejandra Soto, a spokeswoman for the Insurance Information Institute in New York.
A law in Ohio defines pit bulls as vicious and requires owners to carry at least $100,000 worth of liability insurance, which very few carriers offer, said Lisa Wahoff, director of the Franklin County, Ohio, animal control.
"Some people turn in dogs because they can't afford insurance," which can cost $400 a year, Wahoff said.
Bans increase popularity
However, Pacelle said some communities had repealed the bans because they were hard to enforce. Officials in Prince George's County, Md., are considering that option because they think the prohibition only increased the popularity of the dogs and have spurred underground sales for illegal fighting.
Prince George's County has euthanized about 1,000 pit bulls a year since 1997 when the ban was instituted, said Rodney Taylor, associate director of animal management.
"It's very, very hard as you can imagine," Taylor said, adding most of the dogs are well cared for and not used for fighting. "Owners come in and cry on your shoulders."
David Cook, however, is glad his community banned pit bulls and Rottweilers. Despite a town fund-raiser, he still is paying off medical bills from the surgery required to close Julianne's wounds and to treat daughter Anna-Lara's wounded leg. The dog's owner -- a neighbor who rented and didn't have homeowner's insurance -- was unable to help out with the bills, he said.
"It's a dog people are buying because it's an attack dog, and they want it to be an attack dog," David Cook said of pit bulls. "They should be held responsible."
Copyright 2018 The Associated Press. All rights reserved. This material may not be published, broadcast, rewritten or redistributed. We strive to uphold our values for every story published.