Misty Doxtator wants to be a doctor someday. But the 14-year-old knows it won't be easy. She'll have to study hard and earn scholarships to go to college.
That's why she spent this month at Haskell Indian Nations University, participating in the Billy Mills Summer Academy as part of Haskell's Upward Bound program
Misty, a member of the Kickapoo tribe at Horton, and 40 other American Indian teenagers spent the month taking classes and learning what they'll need to do to go to college after they graduate from high school.
"I think this is good for us kids," Misty said last week. "It can help you in your school, and it gets you out of your house."
And that, Haskell officials said, is the point.
"These are first-generation, low-income families that may have an interest in going to college," said Bruce Martin, the program director, "but they're not sure how to get there. We try to help them get through high school."
This is the fourth year of the program at Haskell. It runs year-round, offering tutoring and counseling to about 70 American Indian students between the ages of 13 and 18 years old. Students don't have to pay to attend the academy; it is funded through a federal grant to the Haskell Foundation.
The monthlong summer academy -- which ended Friday -- is the highlight of the year, introducing students to the college lifestyle. They sleep in the dorms, take classes during the day and participate in cultural activities and intramural sports during the evening.
During the summer academy students staged a powwow for students in other Upward Bound programs across the state, recorded a CD of American Indian songs and created a yearbook for the academy.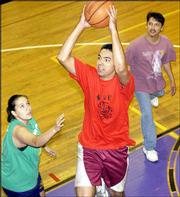 "We provide them with a little college life, give them experience," Martin said.
The students were from Kansas City, Topeka, Lawrence and nearby reservations. Classes included math, English, science and art, as well as seminars about how to earn financial aid and scholarships for college.
Martin said during the life of the program 80 percent of participants have gone on to college, with a healthy number of those attending Haskell.
Stephanne Juarez just finished her first year at Highland Community College. She was a counselor at the summer academy this month after spending three years in Haskell's Upward Bound program during high school.
"I always wanted to go to college, and they supported me even more," Juarez said. "They're adamant about helping us go to college."
Juarez graduated from her Kickapoo reservation high school as the class salutatorian in 2002. As an Upward Bound counselor, she spent the month telling younger students how her hard work in the classroom translated into scholarships.
"I did a good job," she said.
Martin said he hoped the students eventually would end up as leaders in their tribes, businesses and society.
"There's not too many Native Americans out there going to college, getting degrees and making their presence known in society," he said. "This helps them know what their options are."
Copyright 2017 The Lawrence Journal-World. All rights reserved. This material may not be published, broadcast, rewritten or redistributed. We strive to uphold our values for every story published.