King of Prussia, Pa. — When Jim Bradbeer and Scott Beaumont acquired the Lilly Pulitzer trademark in 1993, they got more than outrageously pink and green dresses.
They also got the brand's passionate fans, who for a decade could only find vintage prints online or in thrift stores.
This ready-made customer base helped pull the Lilly Pulitzer label from the fashion archives.
"When Lilly started the business back in the '60s, she targeted a young customer because she was young," Bradbeer said. "What we have done is target the daughter and granddaughter of that original customer." Annual sales now exceed $40 million a year, the company said.
The brand's roots are in Florida, where socialite Lilly Pulitzer began selling citrus-colored dresses at her fruit juice stand in the 1960s. She asked her seamstress for a dress that wouldn't show the juice stains on her clothes. The simple but startling dresses soon outsold her juice and became a staple for East Coast society women -- including fashion icon Jacqueline Kennedy, who wore hers in a Life magazine photo spread.
Sales faded with the rise of earth tones and power suits, and the original company declared Chapter 11 bankruptcy in 1984.
Now, Bradbeer and Beaumont aim to bring her fun-in-the-Palm-Beach-sun lifestyle nationwide with clothing, shoes and home accessories.
They met the woman who created those dresses through an industry trade show and agreed to move the company from Florida to their Sugartown Worldwide Inc. offices in King of Prussia.
"She had retired and closed the business. She would have lost the trademark," said Bradbeer, 41, the company's president. Beaumont, 49, is Sugartown Worldwide's chairman and CEO.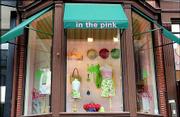 The designer, now Lilly Pulitzer Rousseau, reviews new prints from her home in Palm Beach. She also presided over a runway show last fall during New York Fashion Week, in which her bright frocks were featured the same day as Ralph Lauren's romantic cowgirl clothes and Miguel Adrover's "Citizen of the World" collection.
The updated Lilly Pulitzer line includes more children's clothes, a new "Club" collection for the golf course or tennis court, a maternity collection, shoes and home items such as bed sheets and bath towels.
Classic items have been updated with the modern stretch fabrics. The dresses are a little shorter, and the Capri pants are slimmer, but the Technicolor prints -- turquoise, pink, yellow, blue, the colors of summer vacation -- are unmistakably Lilly.
Two advisory boards, in New York and Los Angeles, meet with the company quarterly to ensure the clothes' resort spirit doesn't waver. They rejected, for example, a little black dress.
"We don't spend too much time trying to keep up with what's going on in our industry. We just kind of do what we do," Bradbeer said.
Lilly Pulitzer clothes are available at 51 independently owned Lilly Pulitzer Signature Stores nationwide, and at select Bloomingdale's and Saks Fifth Avenue department stores.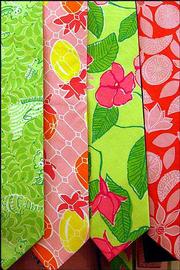 "It's one of those brands where mothers and daughters will both come in," said Michael Macko, director of publicity at Saks. "Some families love that whole matching bathing suit thing."
Despite their elite roots, Lilly Pulitzer garments are accessible for many shoppers. Cotton tops, skirts and dresses cost about $40 to $180 dollars; more expensive cashmere pieces are also available.
The time is right for a new Lilly Pulitzer, industry analysts say, because happy retro styles are back in fashion.
"They touch a nerve. That's a good thing. They allow the consumer to have fun with fashion. Consumers are telling us they want color and newness, they want to wear a conversation piece," said Marshal Cohen, senior industry analyst for The NPD Group, a market research company in New York.
But not every brand revival has worked, and bold prints are still vulnerable to more dour trends, said David Wolfe, creative director at The Doneger Group.
"In Europe, they've been trying to bring back the Pucci prints for several years now and have been only moderately successful," he said.
Copyright 2018 The Associated Press. All rights reserved. This material may not be published, broadcast, rewritten or redistributed. We strive to uphold our values for every story published.