CLINTON LAKE — Drown your sorrows at the lake.
That's been the philosophy that Clinton Lake Marina owner Megan Hiebert believes has allowed her business to weather a nearly three-year downturn in the national economy.
Hiebert said business at the only marina on Clinton Lake, which is just west of Lawrence, had been steady during a time when other businesses, especially those in the tourism industry, have struggled mightily.
Hiebert said she thought the marina had taken advantage of peoples' desire to stay closer to home during uncertain and trying economic times.
"I think what it has been is that after dealing with the stresses of everyday life and dealing with their financial situations, people are feeling a pinch but they still feel like they need to get away from it," Hiebert said. "That's what this place has going for it. It is away. It is only three miles from Lawrence, but it really feels away.
"You can see wildlife on the banks, great sunsets, you don't feel like you're in Lawrence at all," she said.
Business has been good enough that Hiebert is planning the third major expansion in four years to the marina. This fall she'll likely add at least 40 more covered slips. That would follow expansions of 40 slips each in 2000 and 2001.
Hiebert said demand for the slips, which rent for $1,000 to $3,600 a year, had been strong. She filled the 40 slips in 2000 in nine days and in 2001 in 21 days. Despite the down economy, the marina had a waiting list of 200 people looking for a place to dock their boats.
"I think it shows people place a real priority on their leisure time," Hiebert said. "It seems like the last thing anybody wants to do is sell their boat."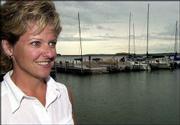 Rising fees
Jerry Schecher, park manager at Clinton Lake State Park, said attendance jumped in 2002 by about 31 percent over the previous year, increasing to 602,000 visitors.
"I think there is something to the idea that when it came vacation time, people were saying, 'Let's stay at home,'" Schecher said.
Thus far, 2003 is off to a slower start. Through May, attendance was down by about 11,000 visitors, around 16 percent, compared to 2002.
Schecher largely attributes the decline to a wet spring, but he said some of it might be backlash from a $1 increase -- to $6 per car -- in the park's entrance fee. It's the second year in a row park fees have been bumped up $1.
"I think it kind of comes back to that sticker-shock type of thing," Schecher said. "People may stop at first, but then they realize it is still a good value."
Hiebert said she was concerned about the rising entrance fees. The marina's restaurant business, which at one time was able to attract regular customers from Lawrence who weren't boaters or campers, has suffered, she said.
"I'm definitely not complaining because I know the state park needs to make money," Hiebert said. "But there has to be a better way to collect revenue than charging a $6 fee to someone who only wants to buy a $5 hamburger."
Those problems may only grow.
Schecher said the outlook for increased state funding to run the park is dim. He said the state park's budget the past three years essentially had remained flat. He also said there's been a long-term decline in the number of staff at the park. In the early 1990s, the park employed six full-time workers. Now it employs four.
"I think all of us in this job understand the situation," Schecher said. "We're important and we add a lot to the quality of life, but when you start looking at the balancing act legislators are doing with funding education, law enforcement, all those issues ... I'd say we're not overlooked, but we may not rank as high as other areas."
Slowed spending
Mark Davis, owner/manager of the Clinton Cove Mini-Mart, located near the entrance to the state park, said he also was concerned about the rising entrance fees.
Despite last year's increase in park attendance, Davis said his business suffered because people seemed to slow their spending. Davis blamed it on the economy, what then was talk of war with Iraq and other negative news.
"There were a lot of people who came through here and they just didn't have the good humor that they used to," Davis said. "They just weren't in the mood to spend."
The store -- which sells gasoline, camping and boating supplies -- reduced its staff from three full-time employees to two.
"The state's economy is what concerns me," Davis said. "If it keeps dwindling down, I'm afraid we will see a decline in services out here at the park, and that will hurt us all."
Nevertheless, Davis said he was more optimistic about the outlook for his business this year than in 2002. Thus far this year, business at the store is running about double the rate last year, he said.
Copyright 2018 The Lawrence Journal-World. All rights reserved. This material may not be published, broadcast, rewritten or redistributed. We strive to uphold our values for every story published.