Cleveland — In a season where nearly everything has gone right for the Kansas City Royals, suddenly there's reason for concern: Mike Sweeney is headed home.
Sweeney, the club's All-Star first baseman, will be examined by team Dr. Steve Joyce today for tightness in his upper back that has kept him sidelined a week.
Sweeney will undergo an MRI to determine what is causing the discomfort.
"Of course I'm concerned," Royals manager Tony Pena said following Kansas City's 3-1 win in 10 innings Wednesday night over the Cleveland Indians. "But this is a 25-man ballclub."
And a first-place one at that. But Sweeney is the one player the Royals can't afford to be without.
Sweeney's .477 average with runners in scoring position leads the majors and he ranks among the AL leaders in average, walks and on-base percentage.
Sweeney last played on June 18, leaving a win against Minnesota after striking out in his only at-bat. He had been getting daily treatments on his back, but Pena said it wasn't getting any better.
The Royals sent Sweeney back to the team hotel Wednesday night, and Pena said the first baseman was trying to get on a late flight back to Kansas City.
Rookie Angel Berroa and Desi Relaford hit RBI singles in the 10th inning as the Royals continued their recent domination of the AL Central.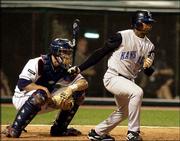 Kansas City is 23-6 within the division and has gone 9-3 in its last 12.
Raul Ibanez doubled off David Riske (1-1) to open Kansas City's 10th and Michael Tucker sacrificed. With Cleveland's infield playing on the grass, Berroa lined a single over their heads into right.
After Carlos Febles reached on a two-out infield single, Relaford brought home Berroa.
Jason Gilfillan (1-1) pitched one inning for the win and Mike MacDougal worked the 10th for his 18th save in 22 opportunities.
The Indians dropped to 1-7 against Kansas City this season, and are 1-8 in extra innings.
"They got us again," Indians starter Brian Anderson said. "We're going to have to figure out a way to beat these guys. They're in our division. Right now, they own us."
Anderson allowed one run and seven hits in eight innings, but came away with a tough no-decision when the Indians couldn't push a second run across.
They loaded the bases with one out in the eighth, but Royals reliever Jason Grimsley got Ben Broussard to hit into an inning-ending double play to keep it tied at 1.
The Indians played superb defense behind Anderson from the outset.
Cleveland turned double plays behind the left-hander in the first and second. In the fourth, third baseman Casey Blake made a diving stop near the line to take a double away from Carlos Beltran.
An inning later, rookie right fielder Jody Gerut played a ball perfectly out of the corner before throwing out Ibanez trying to stretch a single.
The Royals finally tied it in the eighth, helped by first baseman Broussard, whose wide throw to second on the back end of a double play pulled shortstop Ricky Gutierrez off the bag at second.
Febles followed with a bloop RBI single to right that hit the foul line.
"We've been finding ways to win," said Royals starter Kyle Snyder, who gave up just one run and six hits in a season-high 7 1/3 innings. "We got confidence. We feel like we can win the AL Central, for sure."
But the Indians closed the inning with a nifty 5-4-3 double play.
Gutierrez, who made his season debut Tuesday after being on the disabled list following surgery on his neck, hit a sacrifice fly in the second inning to put the Indians up 1-0.
Snyder allowed one run and six hits in 7 1/3 innings.
Notes: The Royals came in leading the AL Central by one percentage point over Minnesota. It's the latest Kansas City has been alone atop the division since July 5, 1987. ... Cleveland has scored just two runs and is 2-for-20 with runners in scoring position in the first two games of the series. ... Gutierrez, who was moved to second base by the Indians last season, made his first start at shortstop since Oct. 7, 2001, when he was with the Chicago Cubs. ... Gerut has six assists, tying him for third in the AL. ... The 6-foot-8 Snyder is the tallest player in Royals history. Kansas City had eight players who were 6-foot-7.
Copyright 2018 The Associated Press. All rights reserved. This material may not be published, broadcast, rewritten or redistributed. We strive to uphold our values for every story published.