Lawrence Raiders coach Carl Brooks summed up his club's game Tuesday against Gardner perfectly: "Workmanlike."
Not that it bothers him.
Lawrence's American Legion baseball team outlasted Gardner, 10-6, in a nine-inning game at Free State High's field by virtue of a better all-around, if not dominating, performance.
If the Raiders do the same when they play Topeka Post 400 today at Topeka Seaman High, it still won't bother Brooks.
"It's not a football mentality. You can't get all geared up for every game," he said. "These kids might look unenthusiastic, but that's because they're very mature and professional."
No kidding.
Lawrence (16-5) was down 4-1 heading into the bottom of the second inning, but took a 5-4 lead after four innings. Gardner responded with another three runs in the top of the fifth, but the Raiders scored the final five runs.
They outhit Gardner, 15-9, and committed only one error to Gardner's four.
"I thought we swung the bats really well tonight, actually," Brooks said. "I got to see Gardner play Eudora during the high school season, and they have a pretty good team. That pitcher they threw tonight did a really good job."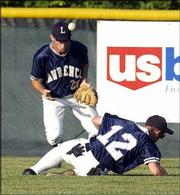 Gardner helped keep it close by jumping on the rare mistakes Raiders starter Taylor Martin made.
With the wind blowing out to left, Martin gave up a three-run home run to Jeremiah Johnson in the second inning and allowed three singles and a walk in Gardner's three-run fifth inning.
Lawrence took advantage of the wind as well, when center fielder Derek Bailey smacked a solo shot in the bottom half of the sixth.
The stiff breeze might have made it tempting to try for a long ball, but Bailey wasn't concerned with it.
"I was more worried about how I'm in the outfield," he said. "They got a couple up in the wind and couple even got over Dominick (Harrell). But the wind really doesn't affect how we hit."
Aaron Madill gave the Raiders the lead for good in the bottom of the seventh, when his double scored Harrell.
He and Blake Dickson then shut the door, shutting out Gardner in the final three innings while combining for seven strikeouts.

Outlaws clobber Paola
Lawrence's Outlaws jumped to an 8-1 lead after the first inning and routed Paola, 11-1, Tuesday at Free State High.
Brandon Van Anne had three RBIs, and Jacob Landis (3-0) earned the win.
The Outlaws (8-6) will play today at Ozawkie.
Copyright 2018 The Lawrence Journal-World. All rights reserved. This material may not be published, broadcast, rewritten or redistributed. We strive to uphold our values for every story published.