WIMBLEDON, England — Three points into her first match since the Slam Streak ended, Serena Williams faulted. The Centre Court crowd responded with -- silence.
Ah, such sweet silence.
Trying to forget the French Open -- all of it: the loss to Justine Henin-Hardenne, the fans who cheered her mistakes, the postmatch tears -- Williams was close to her powerful best at Wimbledon in a 6-3, 6-3 first-round win Tuesday over Jill Craybas.
"Whatever happened in Paris," the top-seeded Williams said, "stays in Paris."
Never was there a hint she might stumble the way fellow defending champion Lleyton Hewitt did Monday, losing to a qualifier ranked 203rd.
"I'm sure he didn't take his opponent for granted, but I didn't want to come close, either. I wanted to make sure I was on my toes," Williams said. "I didn't want to make history by having two No. 1 defending champions go out."
Instead, the first round provided more evidence that the gulf between the top players and other women is far greater than among the men. The highest-seeded woman to lose so far is No. 19 Meghan Shaughnessy, and none the top 10 so much as dropped a set. That included No. 3 Henin-Hardenne and No. 8 Jennifer Capriati.
Eleven seeded men are gone already. No. 7 Guillermo Coria (a French Open semifinalist 21/2 weeks ago), No. 21 Martin Verkerk (the French Open runner-up), No. 14 Xavier Malisse (a Wimbledon semifinalist last year), and No. 20 Yevgeny Kafelnikov (a two-time major champion) all joined Hewitt on the way out.
Even 1992 champion Andre Agassi -- trying to break the record for most years between Wimbledon titles -- and four-time semifinalist Tim Henman dealt with moments of trepidation against undistinguished opponents.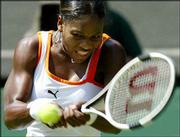 The 33-year-old Agassi, oldest No. 1 in ATP Tour history and owner of eight Grand Slam titles, eliminated 456th-ranked Jamie Delgado 6-4, 6-0, 5-7, 6-4. Henman got past 157th-ranked Tomas Zib 6-2, 7-6 (11), 3-6, 6-1.
"It again goes to emphasize the strength and depth of the men's game. In the top 200 or 250, everybody can play," said Henman, again trying to become the first Englishman since 1936 to win Wimbledon.
Six men shared the past six Grand Slam titles. Just a trio of women -- the Williams sisters and Capriati -- split the 11 majors preceding the French Open.
Henin-Hardenne claimed her first major at Roland Garros after ending Williams' 33-match winning streak and four-title run at Grand Slams. That surprise came in the semifinals; they could meet at the same stage at Wimbledon.
In beating Julia Vakulenko 7-5, 6-1 Tuesday, Henin-Hardenne showed no ill effects of the hand injury that forced her to quit in the final of a tuneup event Saturday. Her left (non-racket) hand and two fingers were bandaged.
"It's sore and painful," Henin-Hardenne said. "But when I'm focused on the match, I can forget it a little."
Williams was quite focused against Craybas, an American ranked 66th, and now has won 16 straight sets at Wimbledon.
"She does so many things well," Craybas said. "She moves well. She can crack the ball when she wants."
Copyright 2018 The Associated Press. All rights reserved. This material may not be published, broadcast, rewritten or redistributed. We strive to uphold our values for every story published.