If Danny Manning joins Kansas University's men's basketball staff next season, it will not be as a full-time assistant.
"Danny has told us the time is not right for that just yet, maybe eventually it will be," KU coach Bill Self said Tuesday of the former Jayhawk All-American, who, if he decides to retire after 15 years in the NBA, could take a graduate-assistant position at KU.
"Hopefully he will be a guy, if time permits with his schedule, that he can be involved in the program in some capacity that he would be comfortable with," Self said. "Right now, time isn't going to permit him to be a full-time coach away from his family and recruiting, those sorts of things."
Self said he would name his third assistant "probably at the latest the first of next week." He didn't name candidates to join full-time aides Norm Roberts and Tim Jankovich.
Former Roy Williams aide Ben Miller, who was instrumental in running Self's camp the past two weeks, has been mentioned as a candidate.
Manning, who has lived in Lawrence the last few off-seasons and recently had a new house built here, said Tuesday he had had several discussions with Self and definitely will consider returning to his alma mater.
"The opportunity to be part of this again is what's intriguing," the 37-year-old Manning said Tuesday from Self's KU camp. "When I say 'this,' I am saying the whole KU experience.
continued from page 1c
"Coach Self and I have had discussions. Nothing is set in concrete or stone. He's just giving me a little time to sit back and decide what I want to do in terms of my future. I'm taking it easy and enjoying life. I'm in no hurry. I've been on someone else's schedule for 15 years. I'm kind of on my own pace right now."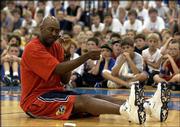 Manning -- he averaged 6.8 minutes in 13 games last season with the Detroit Pistons -- told the campers he hadn't played competitive basketball for a month, his longest career break.
When a camper asked him if he would play against LeBron James, the high schooler who will be tapped No. 1 in Thursday's NBA draft, Manning quipped: "Unless LeBron wants to come to Lawrence this summer, I don't think I'll ever see him."
If Manning retires as expected -- he said his agent had spoken to a couple of teams about next season -- he has no regrets.
"I am content with my career. Do I wish it could have been more? Well, absolutely," said Manning, a two-time All-Star who averaged 14.0 points and 5.2 rebounds in a career with seven teams. "At the same time, not too many people play 15 years in the NBA. If someone comes to me with a great deal, I'm always willing to listen. I'm at the point where physically I could go play if I needed to."
He said he would welcome working for Self, a graduate assistant on Manning's first Final Four team (1985-86 season).
"I like Bill a lot. He is a very easy person to talk to," Manning said. "Bill will do a very fine job. He's enthusiastic and eager to get started. When he was a grad assistant, he helped me a lot. He was always there, ready to help me. When I wanted to get some extra shooting in, he always made himself available."
¢
Lee sprains knee: Kansas junior guard Michael Lee was on crutches Tuesday after spraining his left knee during a pickup game Monday.
"He sprained a ligament in his knee. I'm not a doctor, but from what I've been told they do not think it's anything serious or to worry about," KU coach Bill Self said. "He's on crutches because he's not to put any weight on it. They'll do some follow-up, but they don't think it's anything serious."
¢
Kirk and Nick: Manning on the draft prospects of ex-Jayhawk guard Kirk Hinrich and forward Nick Collison, who are expected to be chosen in the first half of Thursday's NBA draft: "I couldn't tell you where, but they will play a while," Manning said. "I've had a lot of people ask, 'Is Hinrich athletic enough to play at the next level?' I can't believe they ask me that question. It's a no-brainer. Kirk is a lot more athletic than a lot of guards who have played in that league a long time.
"Nick is a workhorse, has great fundamentals. He'll go out and find a way to get the job done. Banging with him day in and out last year (at KU practices before Manning joined the Pistons) I found him a tremendously talented guy."
¢
Manning's camp: Manning will hold his annual camp for youths July 28-Aug. 1 at Sport2Sport. Pamphlets are available at Sport2Sport, various locations around town and online at
www.basketballcampman.com/nba.phtml?camp=5
¢
Foreign invasion: ESPN.com's mock draft has Hinrich tapped 10th by Washington and Collison 11th by Golden State.
Their draft status could be affected by at least 10 European players who are expected to be taken in Round One.
"A lot of guys (NBA general managers) are looking at don't even play that much on their own teams. It's more just potential," Collison said. "They go to the European Final Four and (scouts) are excited about a guy. The draft comes and they take them and have not seen 'em as much.
"It's their money. It's not like college where they award you for a career. It's who they think will be good. The best players will find a way into the league whether they are drafted or not."
ESPN's Dick Vitale said Tuesday the NBA should consider renaming itself the "Global Basketball Assn." He said it would be a grave injustice if Hinrich and Collison were not chosen early.
"I am not against opportunities for everyone," Vitale said on ESPN radio, "but I want guys who have proven it on the highest level in the most pressure-packed situations like a Collison and a Hinrich."
"One of the best quotes I heard was from Collison," Vitale said. "He said the NBA is picking young guys on potential. He said, 'Hey I'm 22. I'm not exactly old, either.' A kid like Collison will only get better, too."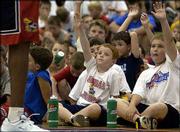 Copyright 2018 The Lawrence Journal-World. All rights reserved. This material may not be published, broadcast, rewritten or redistributed. We strive to uphold our values for every story published.