New York — LeBron James bopped and swayed to the rap music of 50 Cent, squaring his broad shoulders and leaning straight into the lens as his eyes widened into a playful stare for the briefest of moments.
It was right then that the flash went off, a perfect unison of camera and personality clicking together.
One thing about James became clear Tuesday afternoon, a little more than 48 hours before he will become the first overall choice in the NBA draft: The kid is comfortable in the spotlight.
"The first time I got in front of a camera I got nervous. Freshman year, for a district championship," James said after posing for a layout in the men's fashion magazine GQ. "I got real used to it, and I think I'm doing pretty well right now."
Pretty well doesn't begin to tell the story.
The 18-year-old phenom is about to become the savior of a franchise as the Cleveland Cavaliers select the can't-miss man-child from 45 miles down the road in Akron, the most hyped prep player ever.
James graced the cover of several national sports publications as a junior, then went through a senior year in which his team traveled the country with its games on national cable and pay-per-view -- coverage previously unheard of for a high schooler.
James endured the scrutiny resulting from his mother buying him a Hummer sports utility vehicle for his 18th birthday, and he was briefly declared ineligible after accepting two free throwback athletic jerseys.
Those experiences helped mold him, but they have robbed James of neither his flair nor his flash.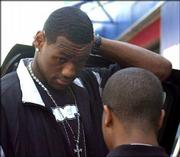 His dancing picked up speed, and his interaction with the photo editor became more and more demonstrative as he was egged on.
"I taught him everything he knows," said his gleeful mother, Gloria, as James bounced like a pinball around a Manhattan photo studio filled with agents, publicists, friends, family members and a few assorted onlookers -- one of whom, the 11-year-old son of a GQ editor, got to play a little one-on-one defense against James as he dribbled a basketball playfully between his legs and the boy's.
There wouldn't be so much hype surrounding James if there weren't something extraordinary to back it up, and James has that one rare quality that separates the Michael Jordans and Magic Johnsons from the Tim Duncans of the basketball world.
It's called charisma, the special charm or allure that inspires fascination and captures the popular imagination.
In James' case, the charisma is unmistakable.
"Just being me, my personality, is part of charisma," James said. "I just think I can be myself and people will rate me how they want to rate me, and I'm glad people say that. I think that can carry you a long way."
Behind James' self-assuredness is his adaptation during his formative years to being in the spotlight. After the game during his freshman year when he first played in front of a TV camera, James challenged himself to overcome his fear.
"I knew it was going to keep coming if I kept doing the things I was doing and playing the game of basketball real well, and I had to prepare myself on and off the court," James said.
He won that inner battle, and the accomplishments piled up over the next three years: three state championships, MVP of the McDonald's All-America game, an unprecedented $90 million sneaker contract, a $500,000 wristwatch that he wore throughout his photo shoot.
James is about to enter the NBA as the most hyped American rookie of a generation, trying to find a balance between humility and fame while also attempting to reverse the fortunes of a franchise that hasn't been on a national telecast since the 1998 playoffs.
"Fame is really nothing new to me because I've been selling out gyms since the end of my freshman year and seeing cameras all over the place," James said. "Everything that's going on now is nothing new to me. I'm used to it."
Copyright 2017 The Associated Press. All rights reserved. This material may not be published, broadcast, rewritten or redistributed. We strive to uphold our values for every story published.