Camp David, Md. — President Bush said Tuesday "it's just a matter of time" before terrorist leaders like Osama bin Laden and Saddam Hussein are captured.
Bush said it could take days, months or years before the United States and its allies complete the search for terrorist leaders. "We're just on the hunt," Bush said at a news conference with Pakistani President Pervez Musharraf.
"It doesn't matter how long it takes, Mr. President," Bush said, nodding to Musharraf.
Bush didn't directly answer a reporter's question about the whereabouts of bin Laden or Saddam, saying "there are more than two principals at large" and saying the United States and its partners were capturing or killing other members of both men's circles.
"There's more than two principals at large. There are terrorists who still have designs on destabilizing the Pakistani government and/or destroying innocent life. You named two," Bush said. "There are others around, too, and we are just on the hunt, and we'll find them. It's a matter of time."
Musharraf said his government was making extraordinary efforts to track down bin Laden and his lieutenants. For the first time, his military is searching tribal border areas that have not been entered by the army in more than a century.
He called these regions "treacherous" territory.
Musharraf has said he thought bin Laden could be alive in Pakistan.
But, he told a reporter, "whether Osama bin Laden is here or across the border, your guess, sir, would be as good as mine, so I wouldn't like to venture into a guess."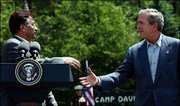 Bush credited Musharraf with capturing more than 500 al-Qaida and Taliban leaders, and he called Musharraf "a courageous leader" and a friend of the United States.
Musharraf basked in the prestige of Bush's Camp David invitation, and thanked Bush for the "special gesture." Musharraf was the first Southeast Asian leader to get such an invitation.
Bush announced that the two countries were signing a new trade and investment agreement and he pledged to work with Congress on a $3 billion assistance project for Pakistan. Further, Bush said the United States had forgiven $1 billion owed by Pakistan in the last year.
Bush also said he was encouraged by progress India and Pakistan have made in easing tensions regarding Kashmir and other issues, and he pledged that "we will do all we can to promote peace."
Copyright 2018 The Associated Press. All rights reserved. This material may not be published, broadcast, rewritten or redistributed. We strive to uphold our values for every story published.