Harvest rolling along in western Kansas
Hot, windy weather has kicked the western Kansas wheat harvest into high gear.
Wheat is pouring into Hays-area elevators, with cutting reported Tuesday as far west as Colby. Temperatures in the region soared to as high as 98 degrees.
Wind damage to the crop has been reported in Colby, where the state harvest office was the first in Kansas to report that the some wheat from Britton, Gove and Rexford had been brought with the wheat head army worm. Elevators are checking every load for infestations.
Cutting is in full swing in the Hays area, where its harvest office Tuesday reported the area had taken in 60,000 bushels with test weights between 58 and 62 pounds per bushel.
Kroger lowers outlook
Kroger Co. reported Tuesday a 15 percent rise in first quarter earnings increased, partly because of increased sales and bookkeeping changes, but lowered its outlook for the year.
Kroger, one of the nation's biggest supermarket operators, earned $352 million, or 46 cents a share, for the quarter ended May 24, up from $305.2 million, 38 cents a share, for first quarter 2002.
Chairman and chief executive Joseph Pichler said competition has prevented it from achieving anticipated profit margins and revised its projected earnings for the year to between $1.55 and $1.63. The company had predicted that it would earn $1.63 per share in 2003; the Thomson First Call estimate was for earnings of $1.65 per share.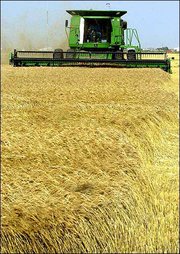 The company owns the Dillon's supermarket chain, which operates in Lawrence.
Mortgages
Lawmaker proposes changes for Freddie Mac
A lawmaker on Tuesday unveiled the first legislation in response to mortgage giant Freddie Mac's leadership and accounting problems, prescribing tighter regulation and a new supervisory system for both Freddie Mac and its sister government-sponsored company, Fannie Mae.
The measure being proposed by Rep. Richard Baker, R-La., the most outspoken congressional critic of the two publicly traded companies, would abolish the Office of Federal Housing Enterprise Oversight, the agency of the Department of Housing and Urban Development that supervises both mortgage-dealing companies. The oversight office would be eliminated a year after the bill became law.
In its place, the division of the Treasury Department that oversees savings and loan companies would regulate, with greatly expanded powers, the two biggest players in the multitrillion-dollar home mortgage market.
Wall Street
FedEx profits rise
The FedEx Corp. reported fourth-quarter profits Tuesday of $280 million, up 19 percent from a year ago on increased business for FedEx Ground and FedEx Freight.
The earnings for the quarter ending May 31 came to 92 cents a share, compared with earnings of $236 million, or 78 cents per share, in the same quarter last year. That beat the 90-cent estimate of market analysts surveyed by Thomson First Call.
The company reported a combined 5 percent increase in package volumes for FedEx Express and FedEx Ground. Revenues for FedEx Ground increased 18 percent to $880 million, while FedEx Express revenues grew by 6 percent to $4.26 billion.
Copyright 2018 The Lawrence Journal-World. All rights reserved. This material may not be published, broadcast, rewritten or redistributed. We strive to uphold our values for every story published.