Beijing — Indian Prime Minister Atal Behari Vajpayee extended an olive branch of "peace, friendship, trust and cooperation" Monday as he began a six-day visit here aimed at improving strained relations between the world's two most populous countries.
After a welcoming ceremony on Tiananmen Square that featured a 19-cannon salute and a parade of Chinese soldiers, Vajpayee had an hourlong conversation with Chinese Premier Wen Jiabao and signed a declaration agreeing to set aside historical differences and work together to promote economic growth and the interests of the developing world.
In the declaration, the Indian government for the first time explicitly recognized the Tibet Autonomous Region as part of China's territory, the official New China News Agency reported today. Tibet has been a longstanding bone of contention in the bilateral relationship because India is home to a large Tibetan community, including the Dalai Lama's government in exile.
The trip marked the first time in nearly a decade that an Indian prime minister had set foot in China.
Vajpayee's carefully choreographed visit was designed to highlight the recent warming in relations between the longtime adversaries, which account for a third of the world's population. The prime minister's visit marked the third time that top Chinese and Indian officials have met in the past month.
During a private talk at the Great Hall of the People, Wen assured the Indian leader that China would not meddle in South Asian affairs and would be a "constructive player" in promoting peace in the region, according to the New China News Agency. Those comments appeared to be aimed at dispelling fears about China's close relationship with Pakistan, India's longtime adversary. As a reminder of the tensions in that arena, India test-fired a short-range surface-to-air missile Monday, the fifth such test in the past month.
Afterward, the two leaders had a brief public exchange in which Wen predicted that their "friendly private talks" would "yield a major impact on the future development of our relationship." Vajpayee responded by noting that "India attaches great importance to having cooperative relations with China."
The agreements signed by the two governments included commitments to ease visa restrictions and expand cooperation in education, energy conservation and scientific research.
Later in the afternoon, the Indian prime minister spoke at Peking University, where he told students that a marriage between China's manufacturing base and India's technology could provide prosperity for citizens of both countries, according to media reports.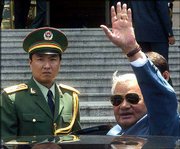 Copyright 2018 The Lawrence Journal-World. All rights reserved. This material may not be published, broadcast, rewritten or redistributed. We strive to uphold our values for every story published.