San Francisco — Barry Bonds stole the 500th base of his career and scored on Benito Santiago's single in the 11th inning as the San Francisco Giants beat the Los Angeles Dodgers, 3-2, Monday night.
Bonds led off by drawing a walk from Los Angeles closer Eric Gagne (1-2). He became the first player ever with 500 stolen bases and 500 homers, taking second without a throw.
After a brief delay while Bonds uprooted the base and waved to the crowd, Andres Galarraga struck out. Santiago then singled to left, and Bonds sprinted home to wrap up the Giants' fourth straight home victory.
Felix Rodriguez (3-0) pitched one scoreless inning for the win.
The Dodgers trailed 2-0 before scraping out two unearned runs in the ninth against Giants closer Tim Worrell.
But the night belonged to Bonds, who became the 36th player to steal 500 bases. No other player ever recorded 400 homers and 400 steals.
Kirk Rueter pitched six scoreless innings and Andres Galarraga homered for the Giants, who reclaimed sole possession of first place in the NL West in another low-scoring game against their California archrivals.
Marquis Grissom had a run-scoring single for San Francisco (45-30), which has led the division since opening day. The Giants edged back ahead of Los Angeles (44-31) in the first of three games.
The Giants have won seven of their last eight against the Dodgers at Pacific Bell Park. Despite a late rally to tie it, Los Angeles lost for just the third time in 13 games.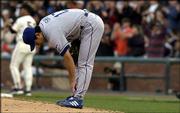 Bonds, who got a visit from his father, Bobby, in the clubhouse before the game, went 0-for-4 with two strikeouts. He had a thrilling confrontation with Gagne in the 11th, fanning on one of the Los Angeles closer's 98-mph fastballs before drawing the walk.
The teams played another tight game following last week's series, in which Los Angeles held the Giants to five total runs while winning two of three at Dodger Stadium. The second-largest regular-season crowd in Pac Bell's history booed the Dodgers with its usual vigor in the Giants' first home game since June 8.
Everything was going smoothly for the Giants until the ninth. After Scott Eyre pitched two perfect innings in relief of Rueter, Worrell blew his fourth save of the season.
The Dodgers had runners on first and second with one out in the ninth when Larry Barnes hit a textbook double-play grounder. But second baseman Ray Durham threw wide of second base, allowing pinch-runner Jason Romano to score and sending Adrian Beltre to third.
Cesar Izturis then grounded into the first-base hole, allowing Beltre to score. Paul Lo Duca nearly extended the rally with a two-out drive down the right-field line, but Jose Cruz Jr. made a spectacular diving catch.
Expos 3, Pirates 0
Montreal -- Rookie Claudio Vargas allowed three hits in eight innings, and Edwards Guzman hit his first home run in nearly two years. Making his 11th start since he was recalled from Triple-A Edmonton April 24, Vargas (4-3) allowed singles to Aramis Ramirez and pitcher Jeff Suppan, and a double to Matt Stairs. Guzman, whose contract was purchased from Edmonton on June 7, connected off Suppan (5-7) with one out in the third for his first homer since Aug. 9, 2001, with San Francisco at Cincinnati.
Rockies 5, Padres 1
San Diego -- Colorado's Shawn Chacon became the NL's first 11-game winner by beating San Diego for his second win in five days against the Padres. Chacon held the Padres to four hits in seven innings to win his third straight start and seven of eight. He tied his season-high with eight strikeouts and walked one. Chacon (11-3) held the heart of the Padres' order hitless until Ryan Klesko drove his first pitch of the seventh over the 405 sign in center field for his 15th homer.
Diamondbacks 7, Astros 6
Phoenix -- Luis Gonzalez broke an eighth-inning tie with a two-run triple, Quinton McCracken added a bases-loaded triple, and Arizona held off Houston for its season-high sixth straight victory.
Copyright 2017 The Associated Press. All rights reserved. This material may not be published, broadcast, rewritten or redistributed. We strive to uphold our values for every story published.