New York — Lacking major earnings or economic news to guide them, investors fell back on profit-taking Monday, sending stocks sharply lower and knocking the Dow Jones industrials down more than 120 points.
Analysts expect the market to pull back or make little progress ahead of a decision Wednesday on interest rates. Investors anticipate that the Federal Reserve's Open Market Committee will once again cut rates to stimulate the economy, and analysts say that expectation has largely been factored into higher stock prices.
"The market has been extended. ... You have some people saying, 'I am not going to wait for the (Fed's) news to come out, I'm just going to book profits now," said Richard A. Dickson, senior market strategist, at Lowry's Research Reports in Palm Beach, Fla.
After tumbling as much as 162.46 points, the Dow ended Monday's session down 127.80, or 1.4 percent, at 9,072.95. The decline followed last week's gain of 0.9 percent, the Dow's fourth consecutive winning week.
Entering the last week of the second quarter, the Dow is up 13.5 percent, putting the blue chips in position to achieve their best quarter since the fourth quarter of 1998, when they soared 17.1 percent.
Monday's losses were moderate compared to more than three months of strong rallies on Wall Street.
Even with the session's sell-off, the tech-focused Nasdaq is 26.7 percent above where it stood on March 11, the low point from which the rallies ensued.
The Dow has climbed 20.6 percent since March 11, while the S&P; has gained 22.6 percent.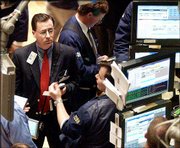 Copyright 2018 The Associated Press. All rights reserved. This material may not be published, broadcast, rewritten or redistributed. We strive to uphold our values for every story published.