WIMBLEDON, England — It was tough to catch a glimpse of Lleyton Hewitt when he left Centre Court after one of the biggest surprises in Wimbledon history.
His 6-foot-10 opponent, Ivo Karlovic, blocked the view.
Hewitt's stunning 1-6, 7-6 (5), 6-3, 6-4 exit Monday against Karlovic, a qualifier, made him the only defending champion to lose in the first round at the All England Club in the Open era -- and the second since Wimbledon began in 1877.
And it's not just that Hewitt lost. It's who beat him. Karlovic is ranked 203rd, entered with a 2-4 career mark in tour-level tournaments, and failed in 10 previous attempts to qualify for Grand Slams.
"I'd never seen him play," said Hewitt, also the only No. 1-seeded player to lose so early at Wimbledon in the Open era (since 1968). "I'd seen him walk around a bit."
After a wobbly start, Wimbledon's tallest player ever used each inch to his advantage. The Croat pounded serves up to 135 mph, gathering 18 aces plus 41 service winners, and unfurled his lanky right arm to guide volleys with surprising delicacy.
Hewitt, who's a foot shorter, is a gifted returner, but he looked like a baseball batter who couldn't handle Randy Johnson's fastballs coming down at him.
"Anyone's going to have a problem trying to get back those serves all the time," Hewitt said. "There wasn't a whole heap I could do out there."
Another of Hewitt's skills, the defensive lob, was of little use. Karlovic barely had to leave the ground to get to one and slam it off the turf into the stands while serving out the match at love.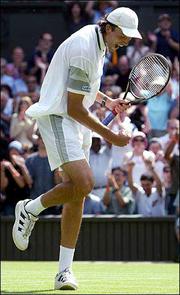 This was a case of Goliath getting the better of David.
"The guy looked like he was serving out of a tree," said Andy Roddick, who must be pleased not to have to face Hewitt in the quarterfinals.
The fifth-seeded Roddick powered 14 aces, including one at 141 mph, to beat Davide Sanguinetti 6-2, 6-3, 6-3. That set up a servers' duel in the second round between Roddick and Britain's Greg Rusedski, who share the record for fastest serve (149 mph). Rusedski eliminated Roddick last year.
Mardy Fish of the United States beat No. 29 Gaston Gaudio; other seeded losers were No. 31 Vince Spadea and No. 33 Nikolay Davydenko. Two seeded women lost: No. 25 Anna Pistolesi and No. 20 Patty Schnyder.
Copyright 2018 The Associated Press. All rights reserved. This material may not be published, broadcast, rewritten or redistributed. We strive to uphold our values for every story published.