Nick Collison, who will become an instant millionaire Thursday night if, as expected, he is taken in the first round of the NBA draft, already has spent a portion of his first paycheck.
"I bought a car -- a Lincoln Navigator," the 6-foot-10 former Kansas University power forward said Monday at Bill Self's basketball camp at Horejsi Center. "I gave my car (Mercury Mountaineer) to my dad because he was driving a Buick. He had it sold for $100. He needed a new car. Other than that, I haven't spent anything."
Actually the All-American made one other purchase -- a new suit to model during the 2003 draft, which will start at 6 p.m. Thursday at New York's Madison Square Garden and be televised on ESPN.
Collison, however, chose not to follow the fashion statement from ex-Jayhawk Drew Gooden, who wore a trench coat-length suit at last year's draft.
"Definitely not," Collison said with a grin. "I didn't like it. I think it was Drew trying to do something different, but he looked like a chef or something.
"I got fitted for a traditional suit a couple of weeks ago. I'm going to pick it up in New York. Hopefully it fits because I'm going to be cutting it a little close."
Collison, who arrives in the Big Apple later today, ordered the suit while in town for a one-on-one workout with the New York Knicks, who pick ninth in the draft.
In all, Collison held workouts for 11 teams -- the Knicks, Toronto Raptors (No. 4 pick), Miami Heat (5), Los Angeles Clippers (6), Chicago Bulls (7), Milwaukee Bucks (8), Golden State Warriors (11), Seattle SuperSonics (12 and 14), Memphis Grizzlies (13), Orlando Magic (15) and Phoenix Suns (17).
Where he'll end up Thursday is anybody's guess.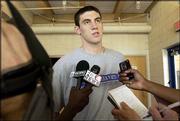 "Who knows? We'll wait and see. Hopefully it's somewhere I'll get to play. I think I'd have a hard time sitting on the bench for four years," said Collison, who if taken by say, Golden State, at No. 11, would make $4.5 million over four years, the Warriors having the option for the fourth year.
"Seattle is a strong possibility. New York is a possibility. I've heard the Clippers. I've heard the Heat. Some teams might not even be picking there because of trades."
One rumor has Seattle acquiring both Collison and his former KU teammate -- Kirk Hinrich.
"It's not likely, but you never know," Collison said. "The way it is now, Seattle has two picks, but Kirk should be gone by then unless there's a trade or something."
Collison does know one thing -- he'll be nervous once he sets foot in New York.
"I'm a little anxious," said Collison, who will watch in the draft's Green Room, as an invited guest of the NBA, along with his parents and other family members. "I think I will be more and more anxious when I get to New York. Right now it's been such a whirlwind, traveling and everything. I've not thought that much about draft night. It'll be nerve-wracking I'm sure."
Collison enters the draft knowing he did all he could to impress NBA teams at the personal workouts.
"They bring you in for an hour after watching you play (college ball) for four years," Collison said. "I think I've been the best player on the floor in all my workouts. I think they were surprised with my athleticism, surprised with my shooting the ball. Other than that, I think they know I'm solid."
¢
Self camp, part deux: Self, who welcomed over 1,000 youths to campus this week for the second and final week of camp, commented on Collison and Hinrich and former Illinois player Brian Cook, who also might be drafted in the first round Thursday.
"They are all rock-solid guys," Self said. I've got my fingers crossed for all three guys."
¢
Giddens' foot: Self on incoming freshman J.R. Giddens, who likely will have a pin inserted in his left foot in July to help repair a stress fracture: "I am not a doctor. All I know is that the general terms they tell me, and it's not a serious deal based on what I'm told," Self said. "It could become an issue later on down the road so he needs to do one of two things -- he needs to get it corrected or take some time off, but we feel he'll be full speed by the time school starts."
Giddens said he likely would have a pin inserted in the foot and miss a month of pick-up basketball after the Global Games (June 26-July 3) in Dallas.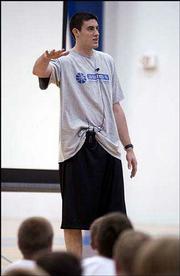 Copyright 2018 The Lawrence Journal-World. All rights reserved. This material may not be published, broadcast, rewritten or redistributed. We strive to uphold our values for every story published.