Florida
Levee break floods homes in subdivision
More than 35 homes were flooded Monday after a levee broke along the swollen Myakka River, while hundreds of people returned home after their houses were threatened by the rising waters of a nearby lake.
The Myakka sent about 3 feet of water into homes in a Sarasota County subdivision, which had privately maintained the levee.
More than 10 inches of rain have fallen since Wednesday in the region southeast of Tampa. Scattered sections of Manatee and Citrus counties reported up to 20 inches last week.
Washington
Prisoner uses fake gun in courtroom escape
A prisoner facing a life sentence made a fake gun out of paper and cardboard and escaped from a Tacoma courtroom Monday.
Harold McCord used the fake gun to threaten guards, then shed his jail clothes and hijacked a pickup truck, sheriff's spokesman Ed Troyer said.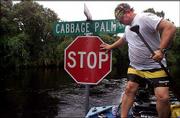 He was in the courtroom for a hearing and his handcuffs and shackles had been removed.
McCord faces a life sentence under the state's three-strikes law that requires life terms for people convicted of three violent offenses. McCord's record included kidnapping and assault, Troyer said.
"He knew he was going to be going for life in prison, so I'm sure he was very desperate," Troyer told Northwest Cable News.
New York City
Law professor sentenced on child-porn counts
A former law professor accused of having some 150,000 images of naked, raped, sodomized and whipped children on his office and home computers was sentenced Monday to six months in jail and 10 years probation.
Edward Samuels, who taught copyright law at New York University Law School for 20 years, pleaded guilty in April to 100 counts of possessing child pornography. He was arrested last August after two computer technicians at the school found the images on his hard drive and reported him.
Assistant Dist. Atty. Maxine Rosenthal told the judge that Samuels, 54, had the largest stash of photos and videos of child pornography ever found in Manhattan.
Washington, D.C.
Government upgrading standards for tires
Tires made for passenger cars and light trucks will be required to withstand new speed and endurance tests by 2007 in the first new federal safety standards for tires since 1967.
Congress ordered the National Highway Traffic Safety Administration to make the changes in 2000 after the recall of millions of Firestone tires.
Most tires on the market already comply with the new standards. NHTSA estimated that 5 to 11 percent of tires will have to be redesigned or modified to comply.
The new requirements are expected to cost tire manufacturers $31.6 million, NHTSA said. The agency estimates they will save at least four lives and prevent 102 injuries each year.
Under the new criteria, tires must be tested at 87, 93 and 99 miles per hour for 30 minutes at a time. That's an increase from the current test of 75, 80 and 85 miles per hour.
Texas
Newly freed defendant back behind bars
One of 12 drug defendants freed from prison last week because of questions surrounding their convictions is back behind bars after allegedly punching a police officer.
Christopher Eugene Jackson, 31, was arrested Friday -- four days after his release -- and charged with assault, evading arrest and being intoxicated in public.
Jackson and the other 11 defendants had been imprisoned on the testimony of Tom Coleman, a now-discredited undercover agent. They were released June 16 because of a bill Gov. Rick Perry signed into law allowing them to be freed while an appeals court and the parole board review their cases.
Coleman was indicted for perjury in April for allegedly lying on the stand during court-ordered evidentiary hearings in March.
Copyright 2018 The Lawrence Journal-World. All rights reserved. This material may not be published, broadcast, rewritten or redistributed. We strive to uphold our values for every story published.