San Francisco — Apple Computer Inc. unveiled its highly anticipated Power Mac G5 computer and previewed the newest version of its OS X operating system, among other products, at its World Wide Developers conference Monday.
Apple said the Power Mac G5 would be "the world's fastest computer," based on benchmark results and independent tests.
The computer features what Apple says is the first 64-bit desktop processor, developed along with International Business Machines Corp. The Power Mac has processor speeds of 1.6 gigahertz, 1.8 GHz or Dual 2GHz.
The new Mac will be available in August at a retail price between $1,999 and $2,999, depending on the features and speed.
Apple said the Power Mac G5 will include its new Safari browser, which will be the default on all future Macintosh computers.
Apple also introduced Xcode, a developer tool to create new Mac OS X applications. The XCode, available in September, is said to be a faster tool than others because developers can make code changes to a running application and see the effect immediately, without needing to restart the application.
Separately, Apple previewed its new operating system, dubbed OS X Panther, which will be shipped by the end of the year. The system upgrades the Mac's graphical user interface, builds its iChat instant messaging service and has features that allow for an easier coexistence for Macs in Microsoft Corp.'s Windows networks.
The company said that the number of Mac OS X users has topped 7 million, and that the number of the operating systems' applications has doubled to more than 6,000 in the past year.
In addition, Apple said that its iTunes Music store has had more than 5 million songs downloaded since its launch. The online music store, which allows users to download music for 99 cents a song, began service in April.
Apple's Nasdaq-traded shares closed Monday at $19.06, down 14 cents, or 0.7 percent, on composite volume of 5.4 million shares. Average daily volume is 6.7 million shares.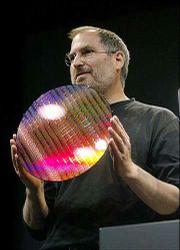 Copyright 2018 The Lawrence Journal-World. All rights reserved. This material may not be published, broadcast, rewritten or redistributed. We strive to uphold our values for every story published.