St. Louis — The Kansas City Royals reversed their fortunes against their cross-state rivals.
Jeremy Affeldt won for the first time in seven starts and hit an RBI single in a 5-2 victory Sunday over the St. Louis Cardinals.
The Royals took two of three in the weekend series. The Cardinals were 5-1 against Kansas City last year.
"Last year, we played so bad against them," K.C. manager Tony Pena said. "It's great to see them play like this against one of the toughest teams in the National League. Taking two out of three is big."
There was a moment of silence before the game to remember the one-year anniversary of the death of Cardinals pitcher Darryl Kile.
"Now, every time you hear Darryl's name, it's all about funny times and memories -- going to dinner and stuff like that," Cardinals closer Jason Isringhausen said. "It's nice to remember him, and we still think about him."
The Royals have won six of eight overall and evened the all-time interleague series against the Cardinals at 12 wins each. Kansas City did it without Mike Sweeney, who has missed the last four games with tightness in his upper back, while the Cardinals were without Scott Rolen.
The teams will meet for another three-game series this weekend in Kansas City.
Ken Harvey homered for the second time in the series, and spot starters Aaron Guiel and Mike DiFelice drove in a run apiece. Harvey was 6-for-13 in the series with two homers and five RBIs.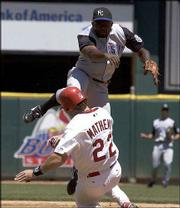 "I was feeling pretty good coming into the series, so I just tried to carry it over," Harvey said. "I don't think it was anything against those guys."
Albert Pujols was 3-for-5 with an RBI single for the Cardinals, his second straight three-hit game. Bo Hart, a 26-year-old rookie, singled in five at-bats and is 8-for-17 in four games since being called up from Triple-A Memphis.
Affeldt (4-3) won for the first time since May 12, allowing a run on six hits. He walked one, only his 19th of the season in 13 starts, and struck out three.
"They battled me, and I battled them back, and we had a fun time out there," Affeldt said. "It was an honorable victory for me."
Mike MacDougal worked the ninth for his 16th save in 20 chances.
Garrett Stephenson (4-6) faced the Royals for the first time and worked six-plus innings, allowing five runs on seven hits. He bemoaned a couple of misplaced pitches that ruined his outing.
"I was pitching good today, I don't care what anybody says," Stephenson said. "If anybody writes anything bad it's all because of the runs and not because of how I pitched, because I pitched awesome, and I'm going to take it into my next game and the game after that and the game after that."
Desi Relaford doubled to start the game and scored on Carlos Beltran's one-out groundout. Tino Martinez's double, a single by Mike Matheny and a double-play ball tied the score for St. Louis in the fourth.
The Royals pulled ahead for good in a three-run fifth on RBI doubles by Guiel and DiFelice and Affeldt's run-scoring single. Harvey hit his seventh homer with two outs in the sixth for a 5-1 lead.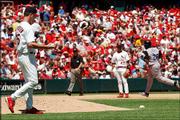 Pujols had six hits and five RBIs the last two games of the series after going 0-for-5 in the opener. He had an RBI single in the seventh to cut the gap to 5-2.
Notes: Along with Kile, longtime Cardinals broadcaster Jack Buck, who died June 18, 2002, also was honored. ... Rolen missed his fourth straight start with stiffness in his neck and sore shoulders, a whiplash-like condition. But manager Tony La Russa said he would be "shocked" if Rolen isn't ready to play Tuesday. The Cardinals have a day off today. ... Martinez left after five innings with tightness in his right hamstring, but is expected to start on Tuesday. ... Affeldt had been 0-2 with a 3.94 ERA in his previous six starts, and had no decisions his last three outings.
Copyright 2018 The Associated Press. All rights reserved. This material may not be published, broadcast, rewritten or redistributed. We strive to uphold our values for every story published.