Los Angeles — Lennox Lewis was exposed as an aging fighter Saturday night by Vitali Klitschko, but retained his heavyweight title after a bad cut stopped the big and tough challenger after six brawling rounds.
An entertaining fight ended on a sour note when the ring doctor ordered the fight stopped after the sixth round of a fight that Klitschko was winning on all three scorecards.
Klitschko, bleeding badly from a cut over his left eye, jumped off his stool in disbelief, yelling "No, no, no" and going across the ring toward Lewis as if he wanted the fight to continue.
Klitschko hurt Lewis in the early rounds and was more than holding his own in a fight that magnified both the ring rust Lewis had from not fighting for a year and the unmistakable fact he was a 37-year-old heavyweight in the ring.
All three ringside judges had Klitschko winning 58-56, but ring doctor Paul Wallace looked at the cut and ordered referee Lou Moret to stop the fight.
"I can see very well," Klitschko complained. "I don't know why the doctor stopped the fight."
The crowd at Staples Center booed wildly, and Klitschko held his arms up in victory and pointed to his heart. It was his heart that had been questioned when he quit on the stool between rounds against Chris Byrd after hurting his shoulder.
Klitschko went into the fight a 4-1 underdog. But the 6-foot-7 Ukrainian came out and traded punches from the opening bell, rocking Lewis in the second and third rounds and hitting him with almost every left jab he threw. Lewis looked tired and old, but did enough to come back and land uppercuts and right hands.
"There is no way he could have finished the fight. He was just deteriorated anyway," Lewis said. "He would have got knocked out in the next couple of rounds."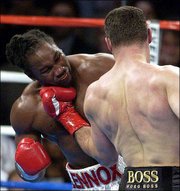 One big right hand appeared to open a cut in the third round that proved to be the undoing of Klitschko. Because the cut was caused by a punch and not a head butt it didn't matter that Klitschko was leading on the scorecards when the fight was stopped.
Wallace said he stopped the fight not because of the blood, but because Klitschko's eyelid was covering his eye and he had to move his head to see.
"When he raised his head up, his upper lid covered his field of vision," Wallace said. "At that point I had no other option but to stop the fight. If he had to move his head to see me, there was no way he could defend his way against a punch."
Copyright 2018 The Associated Press. All rights reserved. This material may not be published, broadcast, rewritten or redistributed. We strive to uphold our values for every story published.